Sara Maia is a Portuguese artist who has amazing work I think my blogging friends will enjoy. I met Sara Maia through friends and was immediately fascinated by her work. It's so interesting and to me it conveys a lot of feminine strength. Much like the artist herself, who is an intelligent and strong woman! I thought I'd ask her a few questions for our enjoyment, so here they are.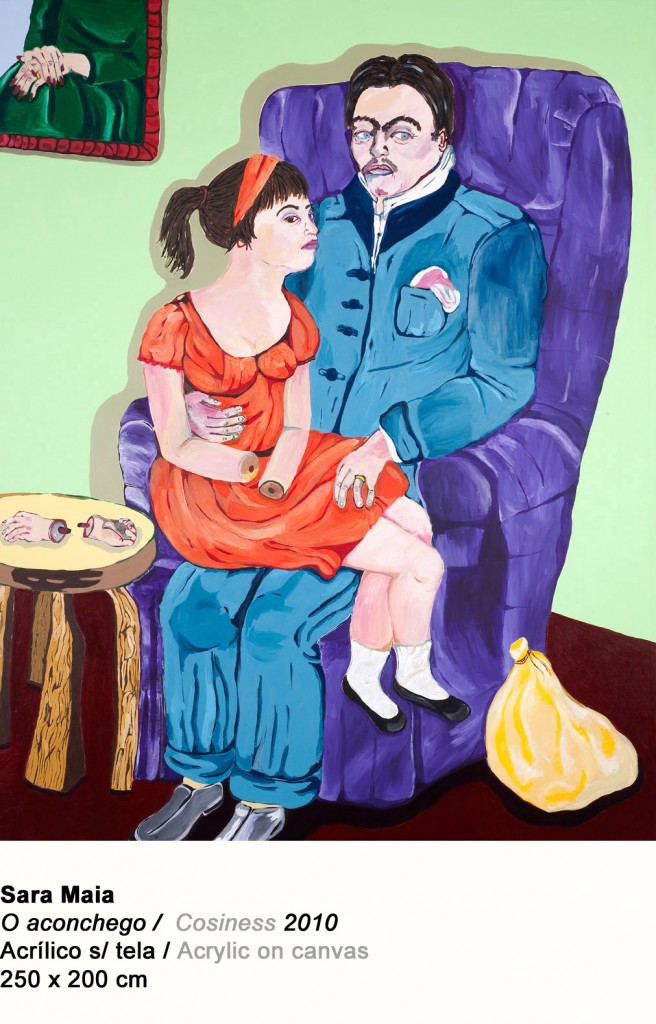 What did you want to be when you grew up?
When I was very small my first dream was to be a ballerina or astronaut. In fact, it would've been much more original to be an austronaut ballerina performing on other planets.
The books and tv series about Space fascinated me but I started with something more grounded – was 5 and asked to be taken to the ballet. I was taken to the local gym  and I was very disappointed because it was nothing like I imagined, there was only overweight ladies dressed in tracksuits. I thought that picture killed my dream a bit, I was expecting a super dance school or the Bolshoi theater. I tried to explain my idea better, I even said where I wanted to enroll but as I did not have any alternative, I installed an area  in my room to dance. The one who wasn't amused with the idea was my brother, who shared a room with me. I actually wore ballet outfits every day to try and put some pressure on my family… I was always of fixed ideas 😀 …
I knew I had to go to any creative field, so later experimented with everything I could …
What was your favourite item of clothing when you were a child?
Interestingly my favorite dress was chosen by my grandfather, who ordered it from an English catalog. It very classic plaid, blue and red with a lace collar – too feminine, too classic for my tastes now. Perhaps because it came from abroad and chosen specially for me by my grandfather has made it more special.
What do you regret wearing but thought was extremely stylish at the time?
Ha ha ha my biggest disaster was something called shoulder pads. I remember I sew them in all my clothes –  sweaters, jackets etc and we looked like Rugby players, totally ridiculous and inelegant but very popular at my school.
What compels you to create in general?
I do not remember not drawing, for me is as normal as anything else. As I was a super shy girl, drawing became an advantage because the other school kids always asked me to draw things for them and I took advantage of it at the time.
Art for me is essentially the possibility of communication and realization of ideas, the reason is the sheer pleasure of performing, and the adrenaline rush to get to the end result.
So, say it starts as an absolutely selfish pleasure but as art presumes communication, you're supposed to be an artist and not autistic. It's anybody's guess how the beholder will react but it starts with the pleasure and the need for making something.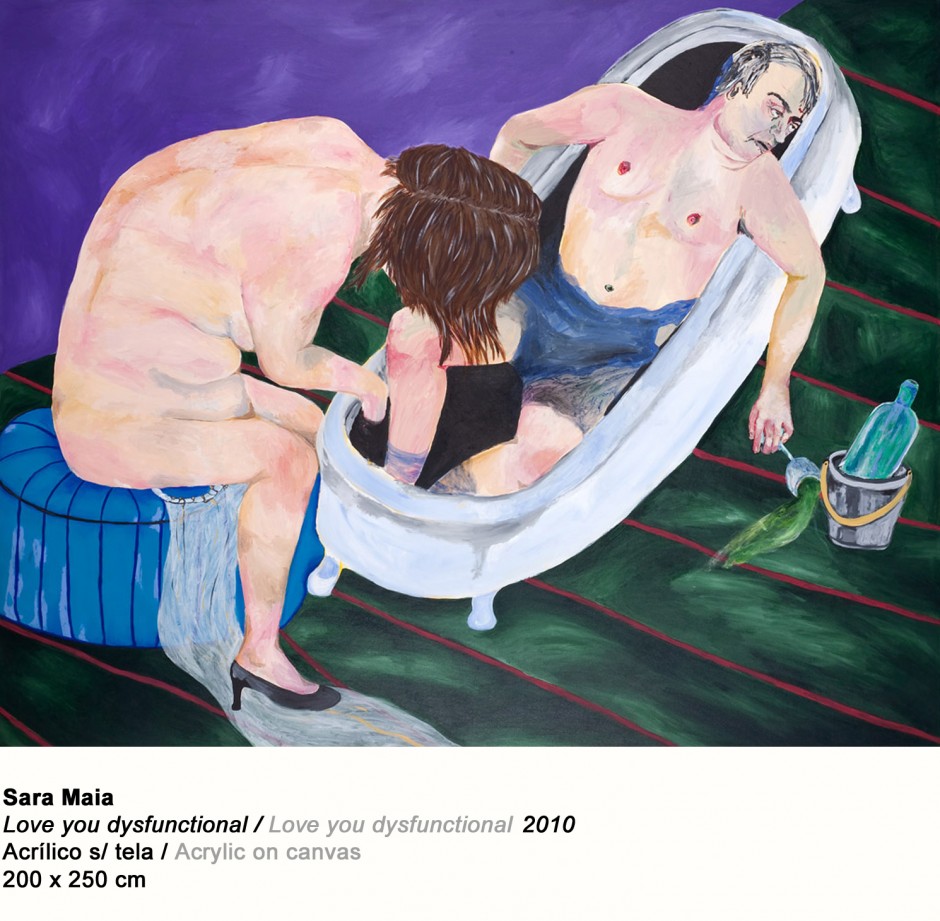 What are your main inspirations?
Life, without a doubt! And all that is contained therein, ie the engine – it can be a movie, a newspaper story, a political situation, words from a song, etc. I doesn't matter much – in fact, what interests me is to transform .
For me it's my space of total freedom, people usually say that my work is violent although I use an ironic sense of humor … (I have been told  in openings that I should do yoga or meditation: – D) I do not filter much, maybe this can even lead to something unexpected …
What interests me essentially is the Human Being and hence my work is figurative, but not in the classic sense. I think there are recurring themes, such as the animal side versus rational, the constructed social hierarchies, etc..
Before I read a lot and it always generated enough ideas but I confess that now one of the sources that usually gives me a lot of ideas, not in a direct way, is to watch video clips. Nowadays there videos of amazing quality with very plastic solutions.
Who is or are your favourite artists?
This question is difficult to answer and often because I they have an endless list of artists for different reasons…
On my first trip to Paris I went to the Jean Dubuffet museum and raved, I think it was the first time I thought it might be fun to have this life.  I also like painters who can be considered a bit dark Ba, like Bacon, Caravagio or Goya, I obviously like fine art and it would be strange if it were not so. Some more recent – Lucien Freud, Paula Rêgo, Balthus, or other Ron Mueck, Louise Bourgeois, Cindy Sherman, Marlene Dumas, as these that address more directly some part of being human.
The artistic field is so open and diverse and has increasingly less borders. Every day I discover new and good artists, like James Turrell, Felix Gonzales Torres, love some more daring projects associated with the movement Land Art, and I follow some fantastic street art artists in which stands out  Portuguese artist Alexandre Farto or (Vills).
I could also say that there was an artist who was very important to my training, Eduardo Nery. His work is completely amazing and distinctive, with him I had the best conversations about art and he's taught me a lot.
What has been your favourite project so far?
My favorite project is always what I'm working on at the moment or the next. What I like most is the fact that each exhibition is a new site, I have to work with new people, so no boredom … it pleases me very much!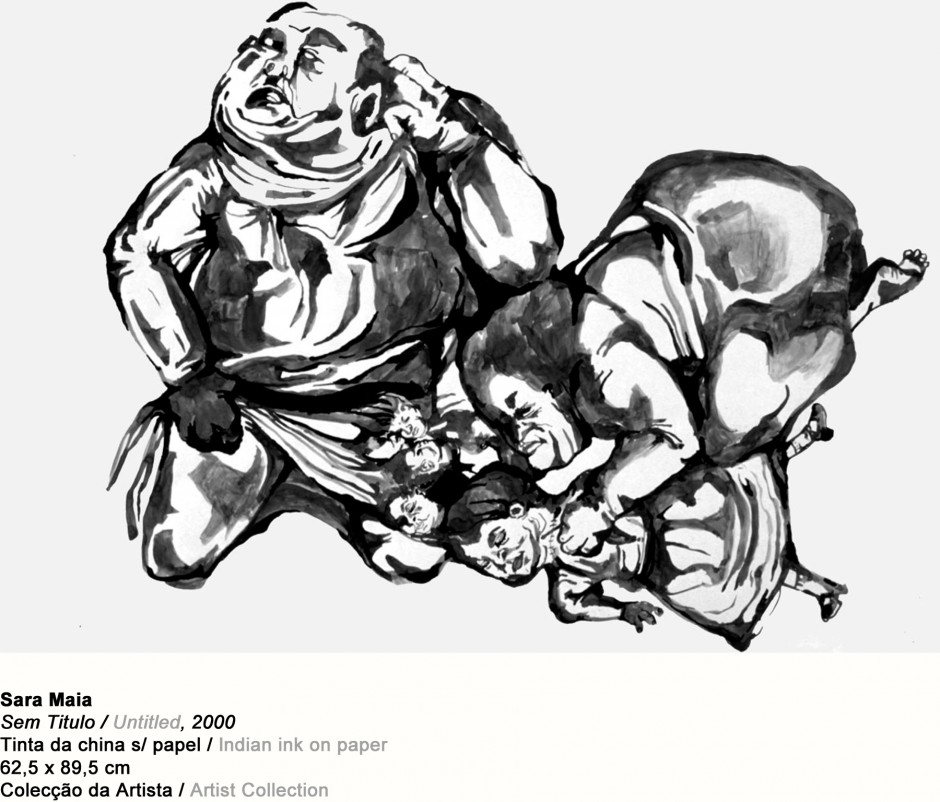 Do you have any exhibitions planned  for the near future?
My next exhibition will be in early April, I am participating in the festival Belém Art Fest, where I'll be showing a piece. I will also work with a Gallery Block 103 in May in Lisbon, just a few weeks ago I finished a collective project with the Gulbenkian Foundation and ISEG, and I have three more projects out of Portugal later this year and early next.
What's your favourite hangout in Lisbon?
What I like most is when you go out at night and don't make any arrangements with anyone and always meet friends. I enjoy doing the circuit Bica and Bairro Alto, and you hop to Cais Sodré, the usual round …
If money was no object, what would be your favourite place to be?
I'd go around the World several times without a doubt. The best thing I can think of is getting to a place and not knowing anyone or anything, having to find my way and get to know new people. I do not know if it is a syndrome of someone who grew up in a familiar city like Lisbon, I've been to Africa but would like to know better the entire America, India, Australia … well I think I'll end up saying everything, but there is indeed a place that I always go back to in the Azores that is Sta Maria Island ..
When you travel, what do you always take with you?
My camera!
Thank you Sara for your time and thoughtful answers! If you want to see some more of Sara's work click here.