As I've been growing my hair, I have also been trying to avoid my bad habit of washing it everyday. That means that every other day I have to use a shower cap. The shower caps I've had before were crap, if I'm honest. The previous one lost its elasticity and the one I bought after that is really cute as it is black with red hearts on it but it fails to protect my whole head. That means I still have to waste time in the morning using the blow dryer to dry the hair around the ears and the neck. Not fun.
I was sent the Save The Blow Dry shower cap because I was in desperate need of a new one, so I thought I'd give it a chance. I am glad I did because it does cover my whole hair and has plenty of room for more, which will happen as my hair grows. The elastic is very comfortable, as the cap is lined with cotton towel fabric. It is totally waterproof and really cute! I was also surprised to see that it can also be used in reverse, if you need to do some kind of treatment on your hair that needs covering.
The one con I can see with it is that the fabric gets a bit wet on the edges and in a bathroom like mine it might take a bit to dry out. I hope it doesn't get mouldy.
I like the vintage feel of the packaging and the fact that it matches perfectly the Hello Kitty towel sent to me by Vix (Vix knows what I like). Bath time has never been so good and makes me feel like an Old Hollywood star!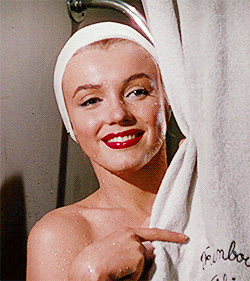 PS: A complimentary shower cap was sent to be by Save the Blow Dry for review purposes, no payment was received. Opinions expressed are my own. As well as the bad photos. I hope you liked this post as I had a lot of fun putting it together, infomercial style!
I'm sharing this post at Share In Style at Mis Papelicos – join me there!