Mango Salute is an amazing tool for those who like to send good quality personalised and original greeting cards, gathering artwork from designers and artists from 30 different countries in one single platform. Soon, you will also be able to see my own artwork on their pages and I'm really excited with this collaboration. It's been a long time since I've had the chance to work professionally on illustration and I am very happy to get back on that horse!
I was given the opportunity to send a few to family and friends abroad and I was very happy with the experience. I picked a few different designs: the Postman Robin for my friend Sandrine in Portugal, the Kitty and the Puppy for my Dad's family, the Guardian Angel for my friends Linda and Ira in NYC as they have been my good friends since I was a child, the cute Penguin for my stepfather Joao Paulo and my sister Elisa in Portugal and last but not least, the Bear Hug for my dear friend Suzanne in NYC, one of my amazing blogger friends.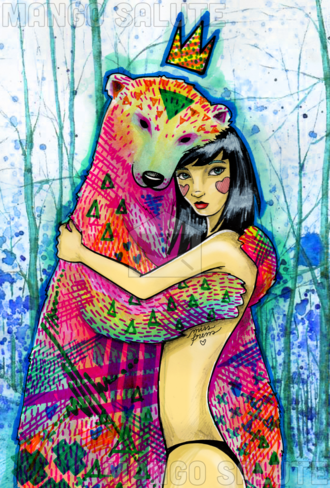 The personalisation process is very simple, you just have to think about what you want to write as it will be written on the inside of the card. If you're not feeling too inspired there is also a message bank that you can choose from. At the end of the process you also have the option of adding a video, that you can either record yourself or pick something from Youtube.  A QR code is then printed on the back of the card, so your loved ones can watch it on their smart phones. I wasn't feeling too photogenic this weekend, so I picked the next best thing: CATS!
This has been a godsend, as I wasn't looking forward to spending a long time queueing at the Post Office, as it is often the case at this time of the year. Also, included in the price is the postage to any country in the world – very handy as a lot of my family and friends are abroad.
Mango Salute have been kind enough to also give all my readers a chance to try their service with a 40% discount, woop woop! Just enter the code Xmas40 at checkout (code expires on the 25th of December, so be quick!)