In the last couple of months, I've been working on improving my surroundings. In this case, my bedroom! You may recall a post I did a while back where I showed you when I painted and added some much-needed shelving to the spare room.
This time the work was to get a new mattress in, deal with the black mould proliferation and increase the storage/display space for my collection of knickknacks.
The first job we did was to clear out the whole room – here's a before photo of some of my art collection: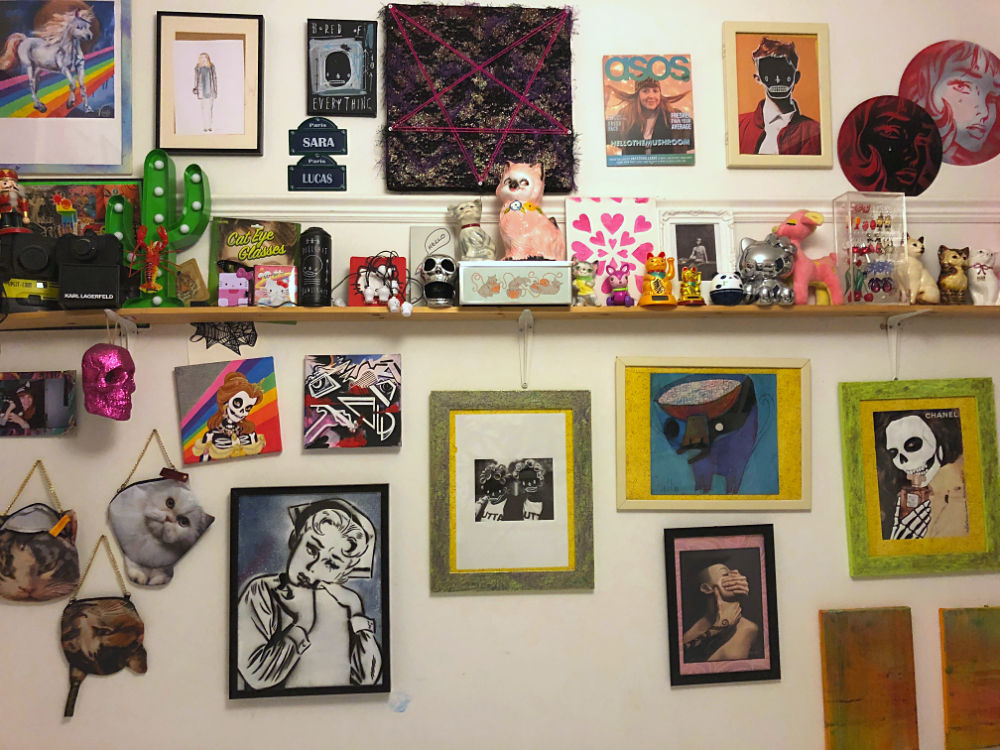 These are mostly pieces that have been gifted or traded with other artists.
After clearing everything out, it was necessary to wash and repaint and get rid og that nasty black mould, which is not only ugly to look at but also extremely unhealthy. I chose a warm pink, that I think ties the whole room together by creating a focal point on two specific walls where the art will be hung.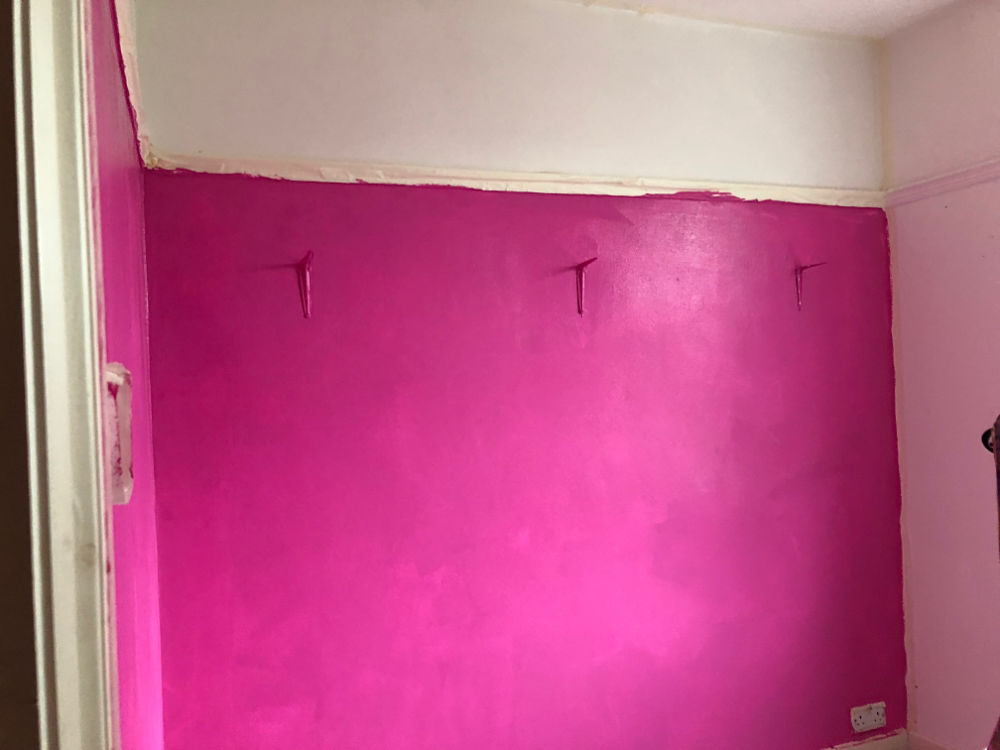 I did the painting mostly by myself, with some help from my boyfriend, who was a sweetie and also helped me with the heavy lifting.
With the help of my housemate, I picked up a wider wooden plank to use as a shelf – which meant that I was then able to unpack some stuff I had stored away. You see, I can't be let loose in a charity shop or a car boot sale as I will immediately find cat and deer figurines that I must bring back home!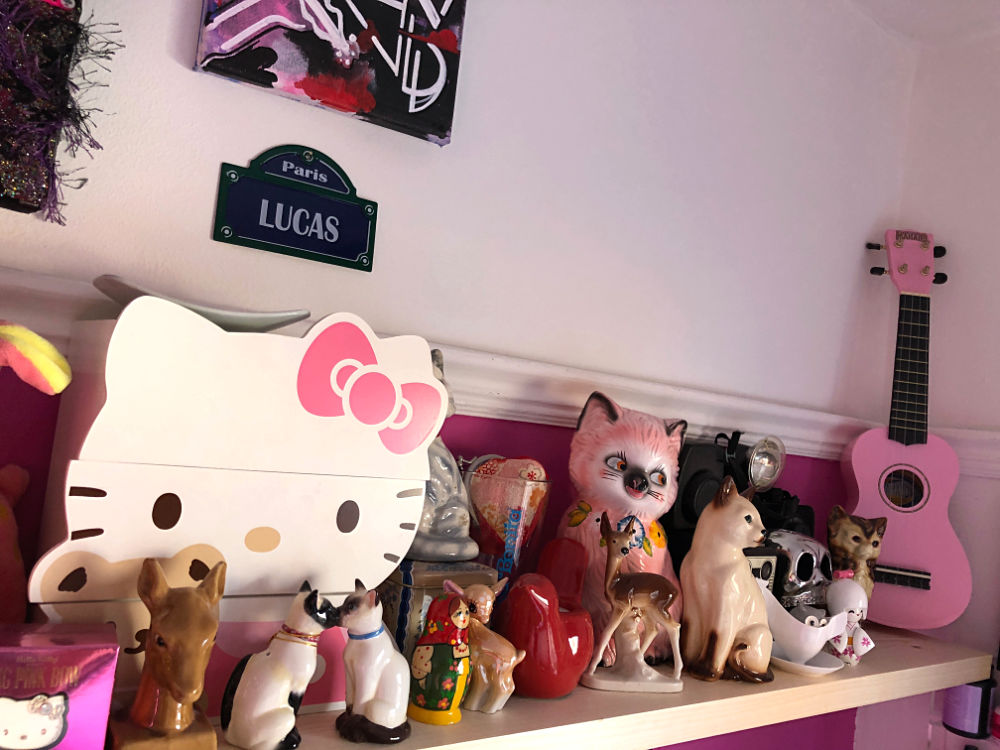 I still have some back home in Portugal too, maybe one day they will all be reunited in some place!
Here are a few more images with the contents of my beloved junk collection, that I've been amassing in the last 8 years in the UK. They are a collection of memories, gifts and little things that inspire me an that I like to keep around.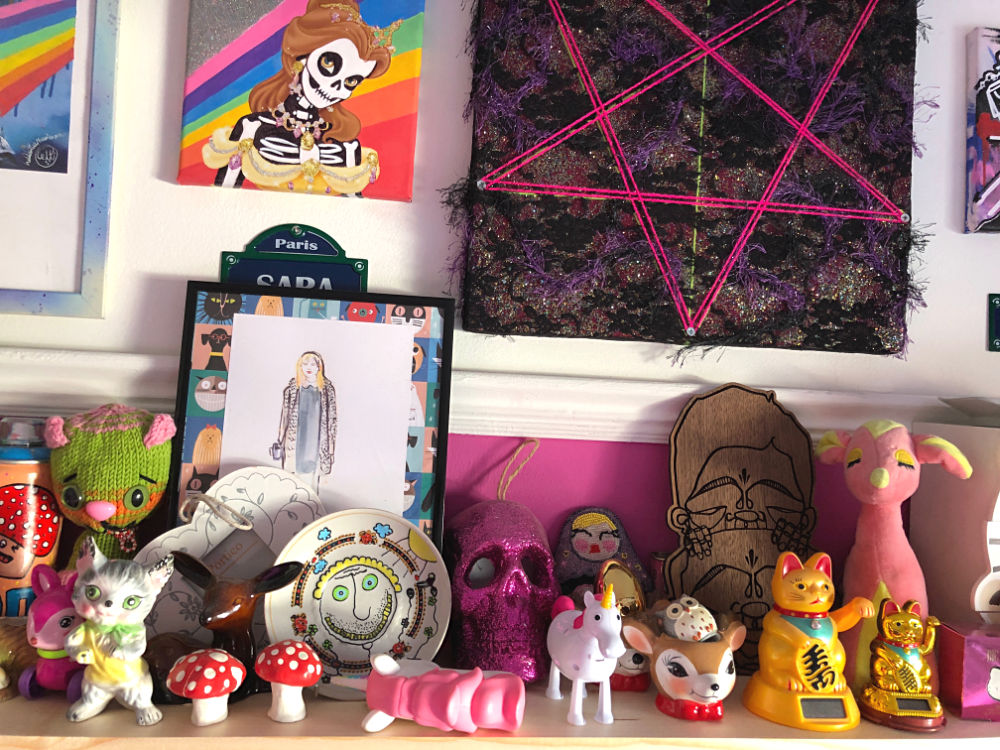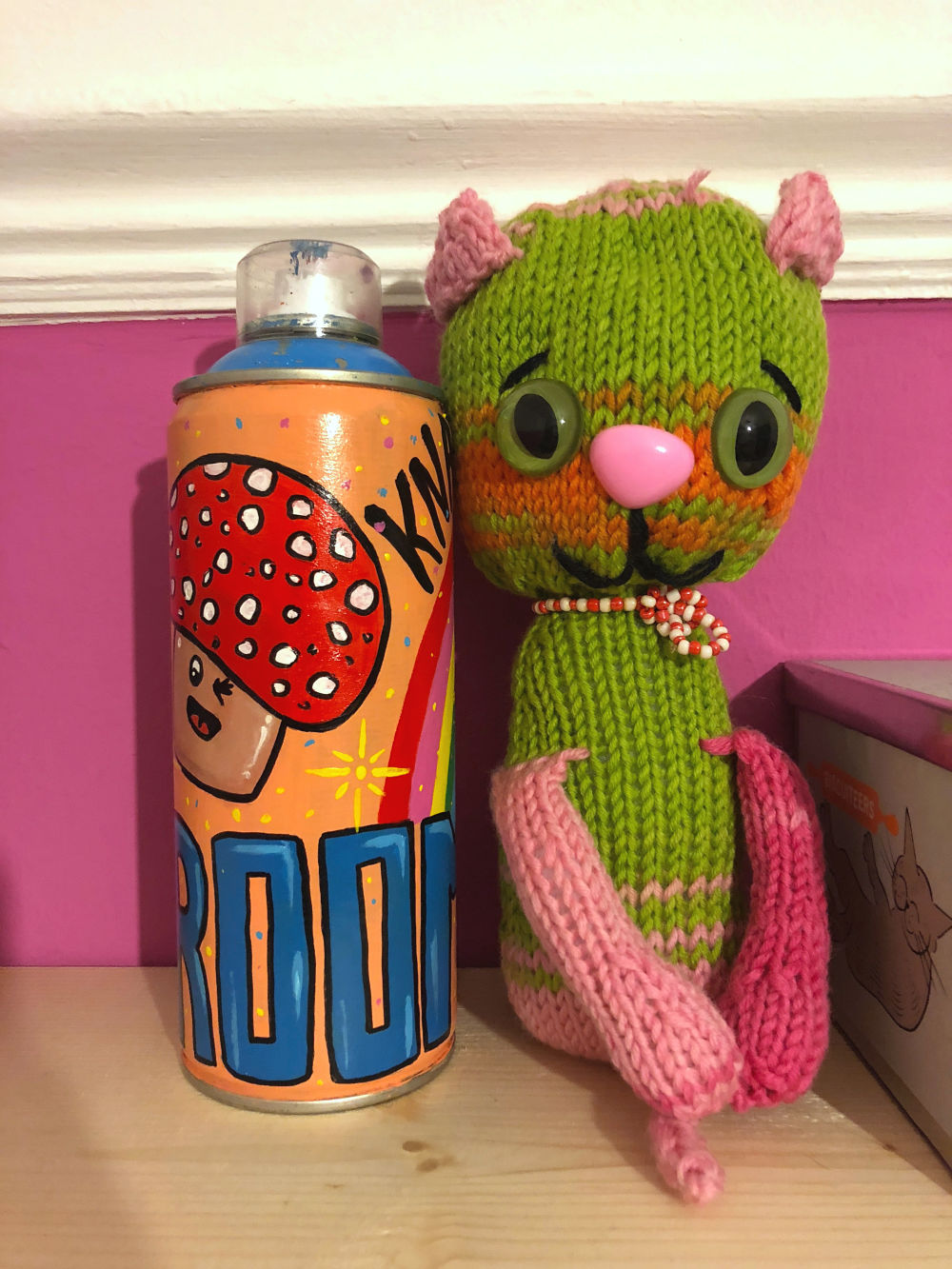 The spray can art is by Ruth Knapp and the kitty by the lovely Swenya, a yarn artist from Cologne.
I was also able to put back my nail polish collection on the wall already: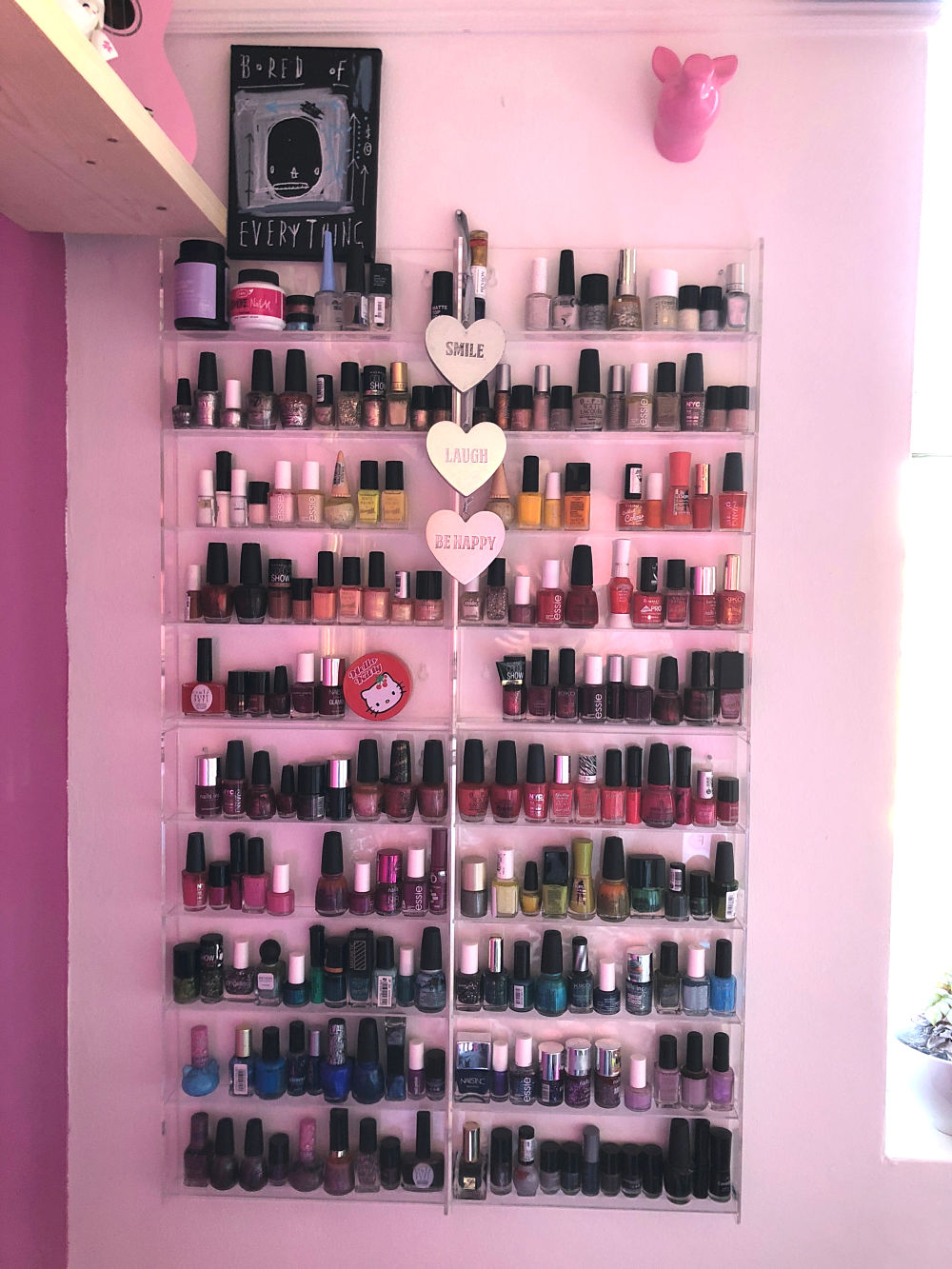 My boyfriend continues to be the best and he gave me a new duvet cover – featuring art by Tom of Finland. I love it so much!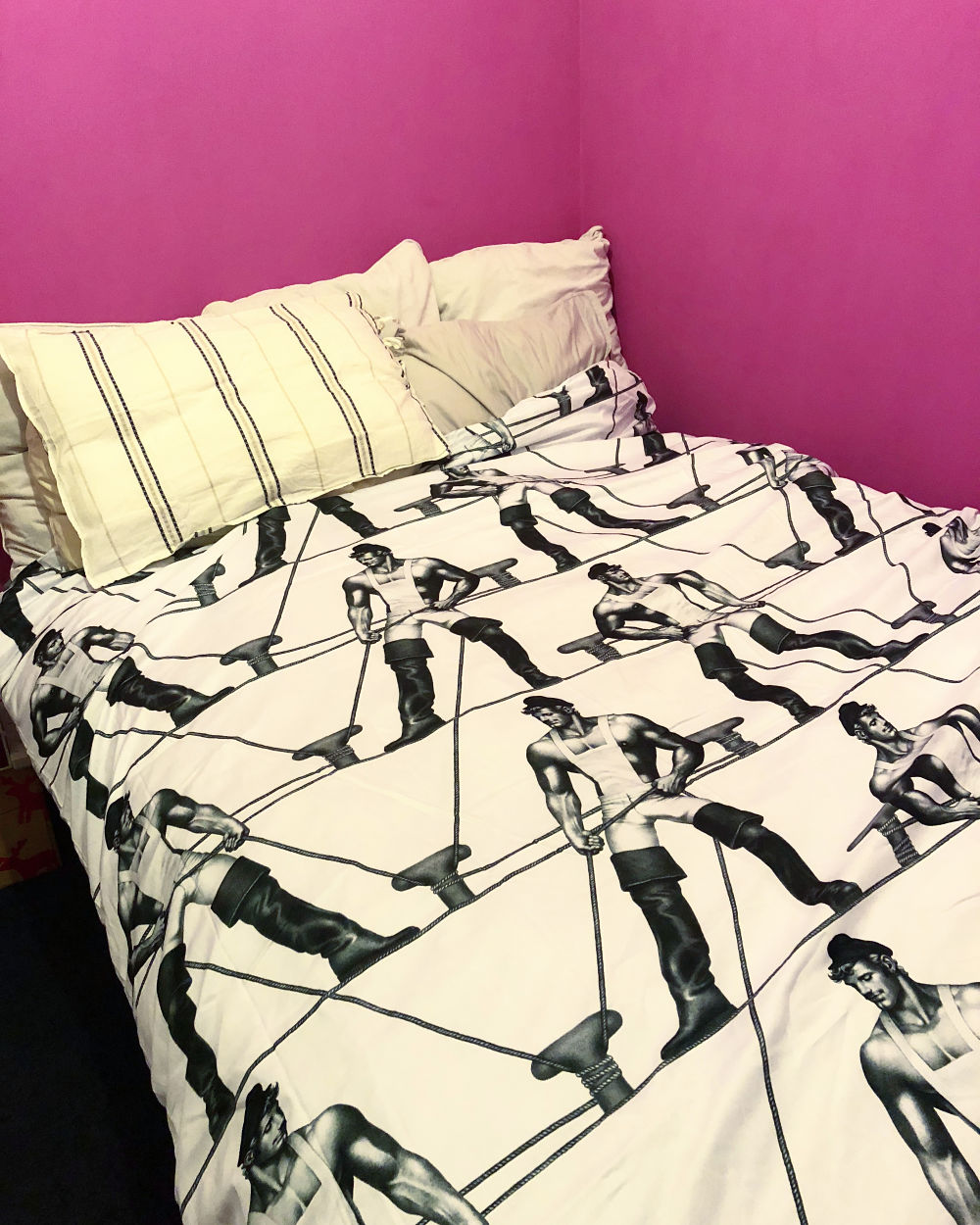 The next steps will be to change the bed – I already have a new IKEA bed, which I think will look nice in my girly girl room, which will be complete with fairy lights and all. Hopefully will be able to do the switch to the new one in the next few days, as it will get me some super good extra storage space under the bed!
Then I will be able to continue adding back the art – with some changes, for sure: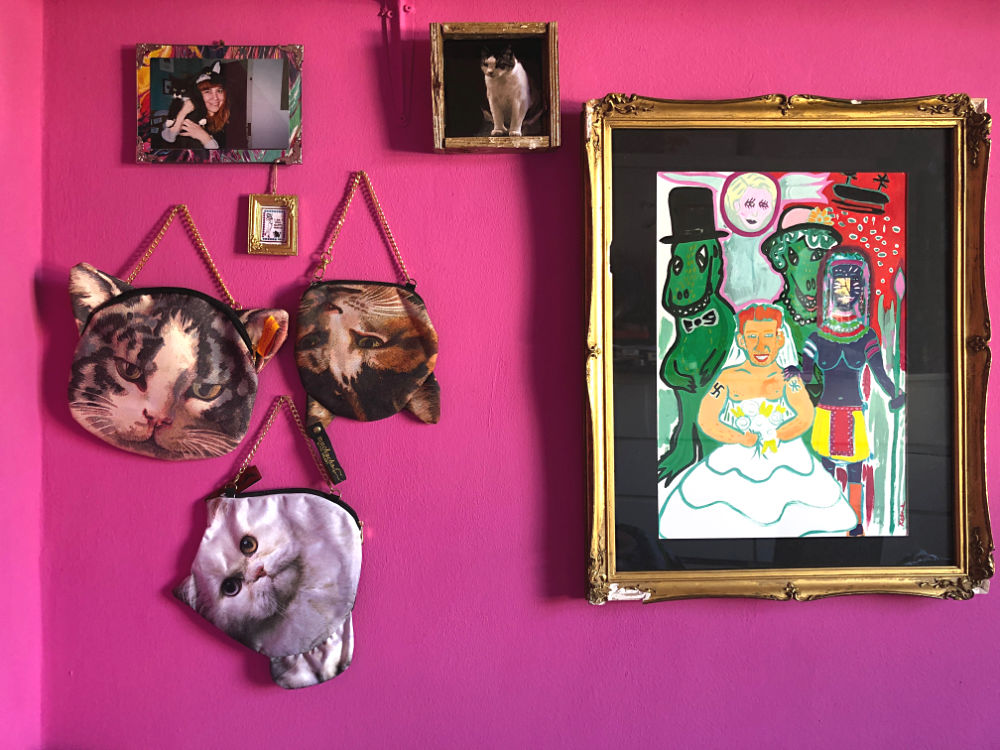 The painting in the gold frame is by my friend Keone and was a piece he created by a show I organised earlier in the year to celebrate (or not, depending on your opinion) the Royal Wedding. It was funny that I ended up in the German press over it.
Once the bed is its place, the rest will be dealt with and hung. Can't wait to have all nice and organised! It's a lot of work, but maintaining a house and keeping everything clean and organised is hard – kudos to those who manage to do it!
As this house that we are living in is fairly old (Victorian, actually) and London is a humid city, the whole house could do with a once over, actually. At this point, the area that needs more attention is the kitchen – the last time it was refurbished, they added a fake ceiling and the light spots are embedded in it. Now that it's deteriorating and the connectors are not working properly, we are getting less and less light – and to fix it means the landlord probably rip everything out. I keep dreaming of having LED ceiling lights or something – that would be easy to maintain and make our kitchen nice and bright! If I had the funds, I would also replace the whole cabinet unit, make space for a larger fridge and freezer (there's 6 of us in the house and only have the tiniest under counter units, how stupid is that?) and get some decent pullout kitchen faucets and better storage altogether.
As this is a rental, the amount of work and money we are willing to invest in making it better is also limited, so at this point I'm focusing more on my room, which is where I spend the most time in, especially that currently I work mostly from home. I'm happy that at least I can make my own living space nicer and that I can finally feel more at home in it.
What are your best bedroom decoration ideas?