I've added a few new products to my usual beauty regime (see my morning makeup regime post here) and I wanted to tell you all about them – hair oil, perfume, serums… As time is of the essence and there are a few and very varied items on the list, I have decided to do it in a roundup format, as it makes more sense to me at the moment. Enjoy!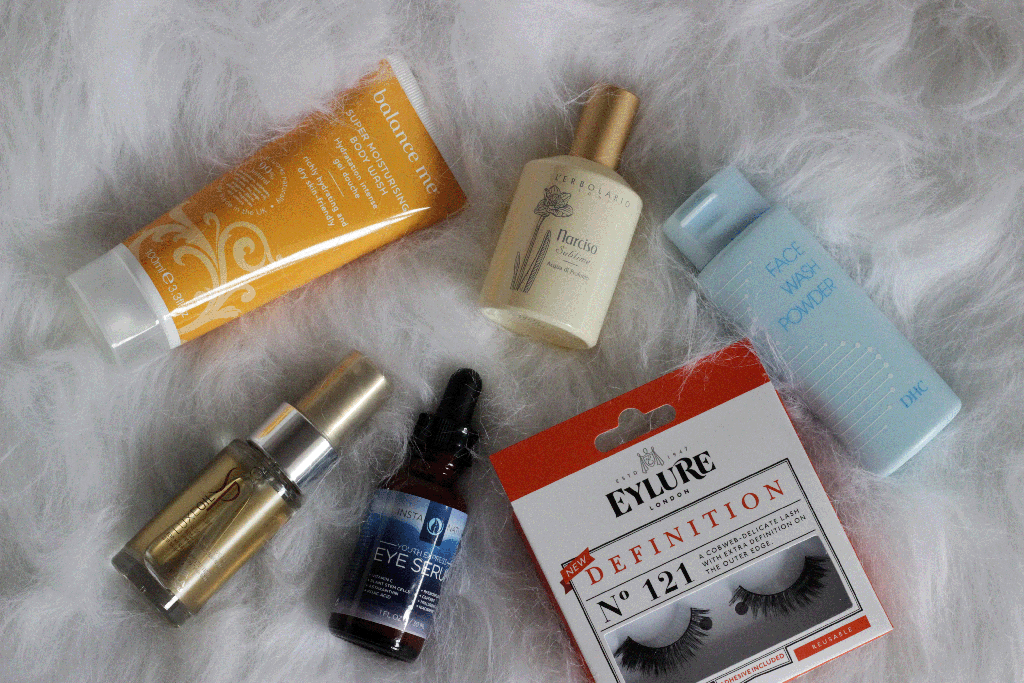 Wella SP Luxe Oil (*) – I have started using hair oil a while back and especially now that my hair is as long as it's ever been. This particular one promises to restore hair strands and protect the keratin, that precious substance that makes up most of our hair. You can use it on dry or wet hair and two pumps will be enough to leave your hair feeling and looking smoother.
Narciso Sublime, perfume by L'Erbolario (*) – Italian phytocosmetic company L'Erbolario sent me a bottle of one of their latest fragrances just in time for Spring, as the narcissus scent is perfect for this time of the year. It's crisp and long lasting, making you feel fresh throughout the day.
Nair argan Oil Salon Divine Body Wax (*) – Nair are renowned hair removal experts, providing easy to use products for all preferences – whether you shave, wax or cream your hair off. I usually shave but thought it would be interesting to try out their super easy to use wax, that all you need to do is microwave, smooth on and peel off, no strips needed. It also promises to be less painful than usual with their new "Bye Bye Pain" formula, I don't know what's in it but I'll take it! I am saving it for bare legs weather, as it shouldn't be too long now!
InstaNatural Eye Serum for Dark Circles (*) – I have been recently told by a skin care specialist that the skin around my eyes was in need of more hydration. It was then in good time that the InstaNatural Eye Serum landed on my doorstep and I started using it immediately as it promises to "Reduce Eye Bags, Crow's Feet, Fine Lines, Sagging Skin and Puffy, Tired Eyes – With Astaxanthin, Vitamin C, Plant Stem Cells, Kojic Acid, Caffeine & Passionflower – Plumps and Restores Skin So You Get a More Radiant Appearance with Brighter, Younger-Looking Eyes"
The colour might be a little off putting at first as I am used to white-ish or clear coloured serums and face creams and the InstaNatural product is bright orange. If you are using it in the morning for that fact I would suggest that you make sure that you are spreading it evenly otherwise you may end up leaving the house with some orange around your eyes. It shouldn't be a problem as the product is easy to spread, it's just that you might want to keep that in mind as it's not a clear coloured product. The scent matches the colour and it smells a bit like oranges!
I am very happy with it as it feels fresh when you apply it and my skin looks a lot better moisturised.
DHC Face Wash Powder (*) – I've mentioned many times before that I'm a total fan of DHC's products, so every time I have the chance to try something new by the Japanese beauty company, I'm going to be saying yes. I have yet to be disappointed. The latest addition to my beauty cabinet is the Face Wash Powder, a delicate yet powerful cleanser that will gently exfoliate and wash away impurities. As with a lot of DHC products, a little goes a long way and just a bit of product will lather and will last for a long time.
And this is my two cents about what I've been using. Have you tried any of these before?
Products marked (*) have been received as samples, words and opinions are my own.