I bumped into a few images on the internet that got me thinking I could use them as inspiration for the 10 ounces of brand new vintage pure wool I had found at a charity shop in Oxford last year.
´
I knitted a lot last Winter but because of some strain due to heavy and repetitive computer usage I haven't picked it up this year, but it was time I'd do something with that beautiful vintage thread I had lying around:
It was really easy to make: I just took the strands of wool and braided them and as they weren't made into a ball it was a lot easier, as I didn't have to cut it one by one.
Then I made two pompoms, using a breakfast cereal cardboard box for the circles (it always comes in handy for these projects!). If by any chance you never made pompoms as a kid here is a simple tutorial.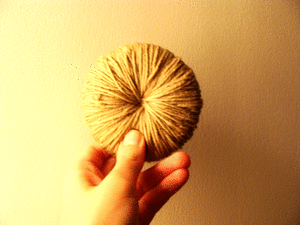 Here's a quick photo of what it looks like on taken with the webcam.
Overall a very simple project to be made in one afternoon.