The task: to recreate one of Yves Saint Laurent's iconic looks. I felt inspired and I picked the one in the middle as it immediately made me think of the red dress I have in my closet, that doesn't get enough love – somehow it feels too grand for work… This is for an ASOS competition, to signal the release of the new Yves Saint Laurent biographical film. I'm quite excited about it… I watched L'Amour Fou recently, a documentary film about the relationship between Yves Saint Laurent and Pierre Berge. It's an emotional film, very touching even and was a very good insight into the personality and life of the Designer. This one, with all the costume recreation promises to be if nothing else, a feast for the fashion and style hungry eyes.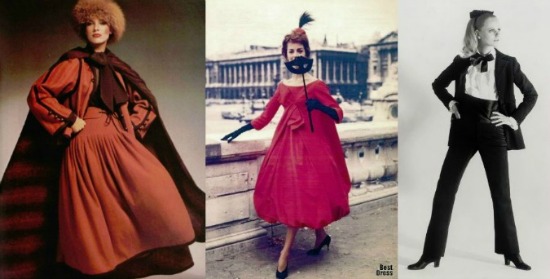 I got together with Filipa and we went round St Wulfram's (the local church) to do some photos and freeze our asses off. I should have really worn a coat out. The things one does for art… and a nice competition.
I decided to wear sneakers, because, you know. They're comfier and all that. Plus I wanted to dress it down a little. I didn't want to look like I was heading to the ballet or something…
Outfit details – Dress – H&M (from Ebay), Gloves – from Ebay (got them for the office Xmas party outfit) , Shoes – House of Holland x Superga, Fascinator thingy – Poundland (cheap!)
Ok, this is getting silly now… Just watch the trailer if you're curious about the film.
I'm joining the ladies over at Visible Monday as it's been too long since I've done it, no?