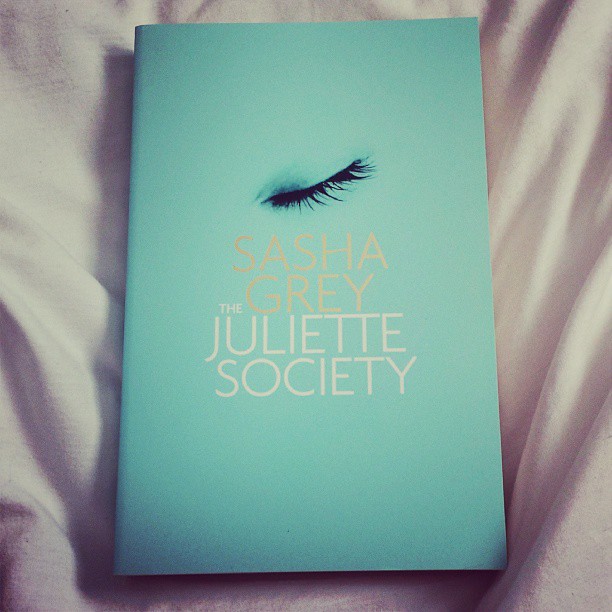 I bumped into this book by mere chance. I had gone into the discount book shop 'The Works' and they had a 3 for £5 discount. I didn't know that Miss Grey had written a book so I thought I'd bring it home to have a look (mere scientific curiosity, you see?).
For those who don't know: Sasha Grey is one of the most popular adult film actresses of the last few years (I'm not linking up to her website- it's quite NSFW). She started very young, at 18 in that industry and left it at 21. Ever since then she's been participating in other films such as The Girlfriend Experience and making experimental ambient music with the  project aTelecine (I like their music, I'm a weirdo what can I say), among other things. Not the first adult actress to do move to mainstream cinema- remember Traci Lords, who was in Cry Baby? (If you can consider a John Waters film to be mainstream but that's another story). So, my curiosity was been piqued and I wanted to see what her literary talents were in the erotica genre. 
The book is described as the story of a young film student (Catherine), who gets drawn into the claws of a powerful men's sex club called Juliette's Society, the name a reference to Marquis de Sade. I was halfway through the book, and hadn't read a word about the said Juliette Society. I would say this is more about that girl's exploration of her psyche, how contradicted she feels about it and her coming to terms with it- long gone are the days of bra burning feminism, in which any woman worth her salt should be a female eunuch… Fortunately nowadays feminism has moved on and you're no longer seen as a lesser woman if you enjoy the carnal pleasures (let's not get into a discussion about modern feminism as this is not what this post is about). Somehow, Catherine still feels like her desires are strange and unusual, until she meets Anna and gets introduced to an entirely different world – people, places and makes her question her feelings even more.
There is a lot of internal dialogue in the book -lots of descriptions (very vivid ones) of her fantasies, as she seems to have an unfulfilled sex life with her boyfriend, the friendship with another fellow student (Anna) who is into all kinds of kink and lots and lots of references to cinema, art etc. I get it. I understand why a parallel was established between the way Catherine feels and the character played by Catherine Deneuve in Bunuel's film Belle de Jour, and that's because I've seen it. I understand why certain references are mentioned because I know them, however, I feel that this might not be a book that's understandable to anyone without a background or an interest in the arts. This is OK, not all books can be read by everyone (I certainly wouldn't understand a book on Quantum Physics or whatever) but at the same time I don't think I should have a PhD in art to be able to read a book like this (ahem, smut). To me, it feels like she needs to prove that although she was an adult film actress, she also has brains. Sasha, you have the smarts, stop trying to prove it to the world, your art will be a lot better if you stop trying so hard.
When finally you get introduced to the Juliette Society, things end up wrapping up rather quickly and I don't know if it was because I was distracted but I was left a little bit confused with the conclusion. Still, it was an entertaining book, it reads rather well and in some bits, kinda hot.
In conclusion: Still a better love story than Twilight, still better written than 50 Shades of Grey…
If you want to buy the book, go here.