Today I thought I should write about something that a few people might already know about me. Late September last year, I had a routine check at the doctor's and had some of the worst news one can be told about their health: I had breast cancer.
Let me just say straight away that it hasn't been easy. It's never easy to be told that you have something going on inside your body that might slowly kill you. Puts everything into perspective in your life. Some three months down the line, it's still a difficult concept to handle and I have emotional crisis occasionally. Who wouldn't?
At the same time, I try to remember that not all is bad. No matter how bad things are, they could always be worse. It's a fact of life. I tend to catastrophise situations and see them as worse than they are, all in my head. If this happens with smaller things, you can well imagine what will happen in a situation like this. Sometimes it takes a friend to slap me across the head, to remind me that I'm not dead yet and that things could be a lot worse. Recently I felt at my lowest ever since I was diagnosed and I'm happy to report that I'm slowly picking myself back up. I thought I'd make a list of the positives, so I the next time I feel terrible I can read it back and soldier on. it was caught very early and I managed to keep my boob
– It was caught very early and I managed to keep my boob. It was also named Tim the Tumour.
– Recovery from surgery was fairly swift, with no complications – no cording, no horrible scar tissue, no lymphoedema… knock on wood!
– Apart from a very neat scar on my left side, you can barely tell I had a lumpectomy.
– I can't have any more tattoos on my left arm due to lymph node removal but I managed to get a small last one in before the surgery, on a short trip to Berlin. It's an Alfa and an Omega if you want to know.
– For the surgery, they injected me with a blue dye, so they could track which lymph nodes to remove. Three months down the line, I still have Smurf boob.
– When they looked at the lymph nodes, they found that I had micrometastases (meaning the cancer cells had spread). This prompted more testing. I had genomic tests done (Oncotype dx) and this was something that took a while to come back. The long wait was painful but in the end, turns out that I  have a low chance of it coming back after treatment is completed.
– Also, I was very lucky that the NHS had only 2 weeks prior approved sponsorship for the test in cases such as mine. That saved me a £2600 bill. I won't hear anyone say anything bad about the NHS. Never did, never will!
– It's also comforting to know that there is treatment available these days and the statistics are mostly on my side. (99% of women with a low recurrence score on the test have no recurrences after 5 years of hormone therapy).
– I didn't need to have chemo, only radiotherapy. This is great because chemo can be a very long and painful process.
– On that note, I also got to keep my hair, to which I've taken a liking in the last couple of years. I really can't see myself wearing short hair again like I used to and this has been a blessing. I would have totally got a pink wig, though. That was my plan, anyway.
– I managed to laugh about this for most of the time. Mostly making fun of myself and Tim the Tumour (the bastard).
– Due to stress and prepping for the surgery and all of that, I took a month off at work. I called it my cancer holiday.
– My father and my sister came over from Portugal for over a week and it was great to be able to spend time with them.
– I got to know and interact with amazingly caring and professional healthcare staff – from consultants, nurses etc. People who really care about their job and making a difference in such a hard time in someone else's life.
– Because of cancer treatment, I got to freeze my eggs for a rainy day. That way, if I ever decide to have children in a few years, I'll have younger and better quality eggs to use. Result!
– I got a free tattoo on the NHS. Such a badass.
– I got a kick in the butt and understood better what I want and need in life to be happy. I can also say that I have gained a new understanding of how precious our time on this earth is. It's a cliché because it's true. This has been a gift. An expensive one, though, without a doubt.
– Last but not least, all the compassion, love, friendship and help I have since received from friends, family, colleagues, medical staff, and even strangers. Without them, things would've been a lot harder. A big thank you to all of you. You know who you are.
This story isn't over, I still have treatments to do (radiotherapy, starting next week) and will be taking drugs to keep things normal after that (for the next few years, at least).
I guess that there will be more ups and downs but for now, I feel extremely grateful and I am glad that I'll still be able to stick around for a while longer.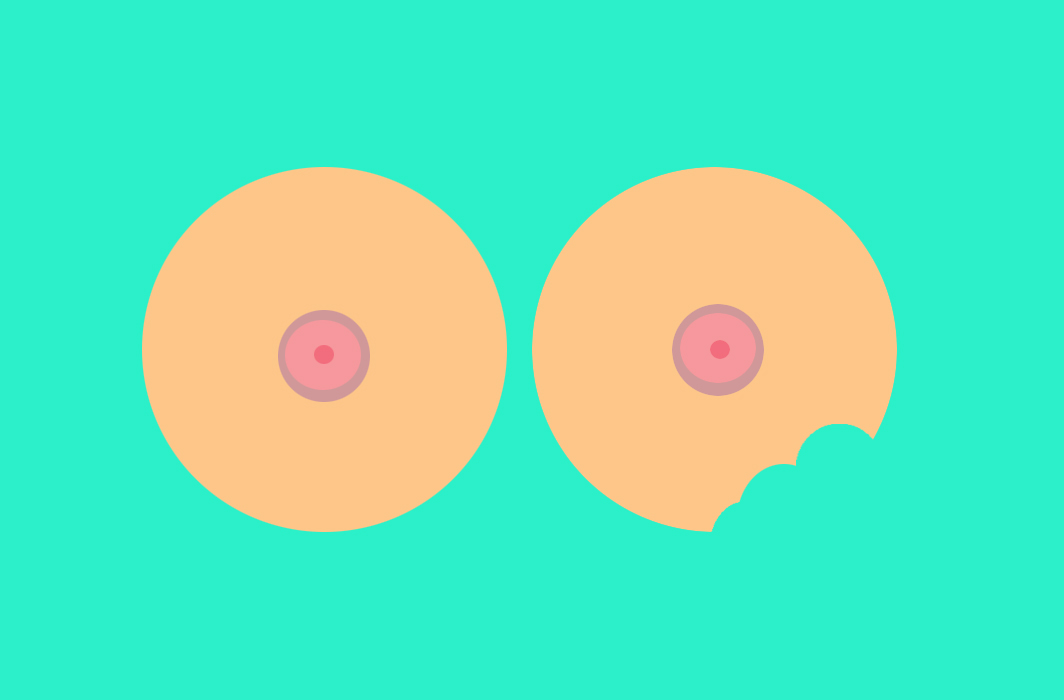 PS: How do you like my boob illustration? I made it on a whim a few weeks ago.