These last few weeks I have been shielding (I do as I am told, thank you NHS) so I haven't been out much, except across the road to take photos of these latest outfits. That said I haven't been out shopping but that doesn't mean I haven't found some good gems online – because I did!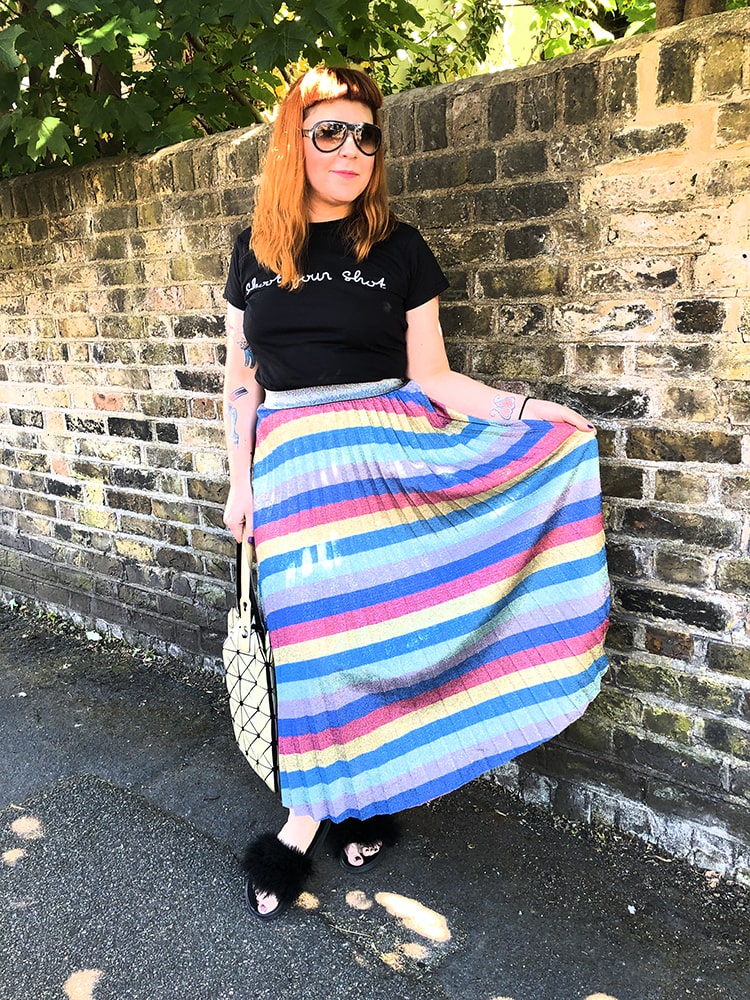 The first outfit in the series features a skirt I bought online and arrived just before lockdown – it was hard finding an excuse to wear it when most days I just sit around and home working or watching Netflix but I just had to try it on one day. I have called it the Amazing Technicolour Dreamskirt because it's what it is – an explosion of glittery colours that make me happy just from looking at it. The t-shirt reads " Shoot your Shot" and I had to get it for the sole reason that it reminded me of a song by the wonderful Divine, of the same title from 1983. Listening to Divine is another thing that always sets me in a good mood!
Outfit details:
Sunglasses – Yves Saint Laurent (via TK Maxx)
Slogan Print Crew Neck T-Shirt – Femme Luxe (gifted)
Bag – Gift from my friend Lili a few years back
Rainbow Skirt – Ali Express
Sliders – Shoe Zone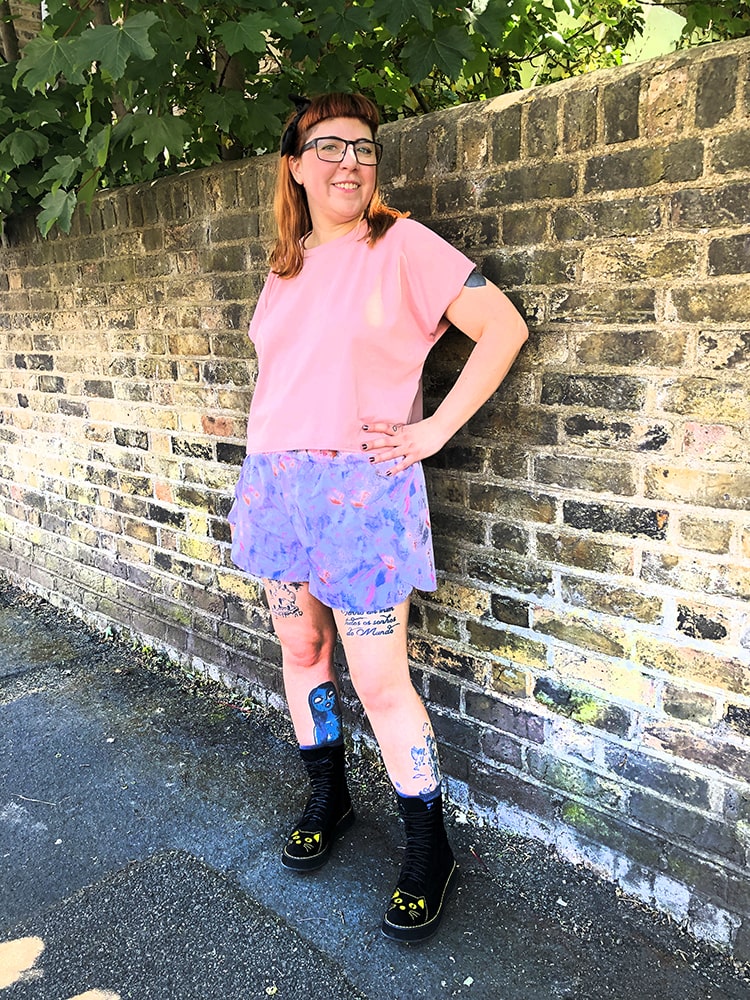 Here's another outfit I wore recently – it was fairly hot that day, but I wanted to break the boots in as I picked them up on sale from a vegan shoe company.
I tried to get our cat Thomas interested in them but alas she didn't really care for them. Ha well, cats!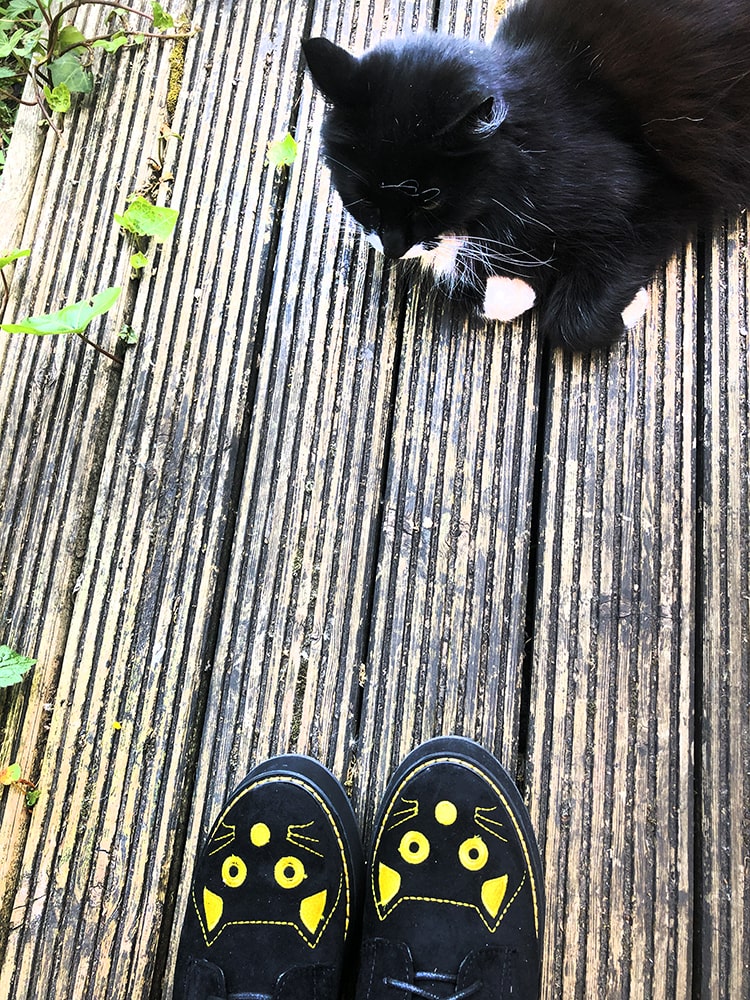 Outfit details:
Hairband – found it in my storage room while I was packing some of my stuff, can't remember where I got it from!
Short-Sleeve Boxy Loungewear Set – Femme Luxe (gifted)
Active Shorts – Alice Liveing x Primark
Cat Boots – Koi Footwear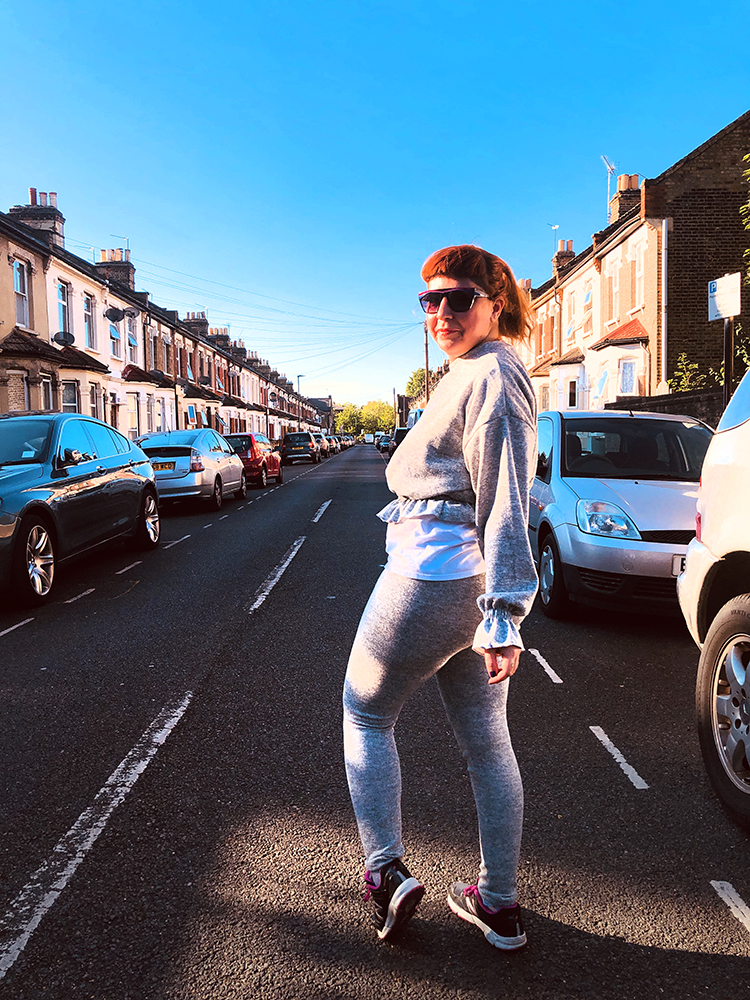 Another cosy outfit – I really liked this set, will be wearing it often on slightly colder days!
Outfit details:
Grey Frill Waist Loungewear Set – Femme Luxe (gifted)
Trainers – New Balance
T-shirt – to be honest I can't remember which one I wore on that day
80's style sunglasses – Got them from Primark 10 years ago! They're super cute, I wish they were a bit better quality.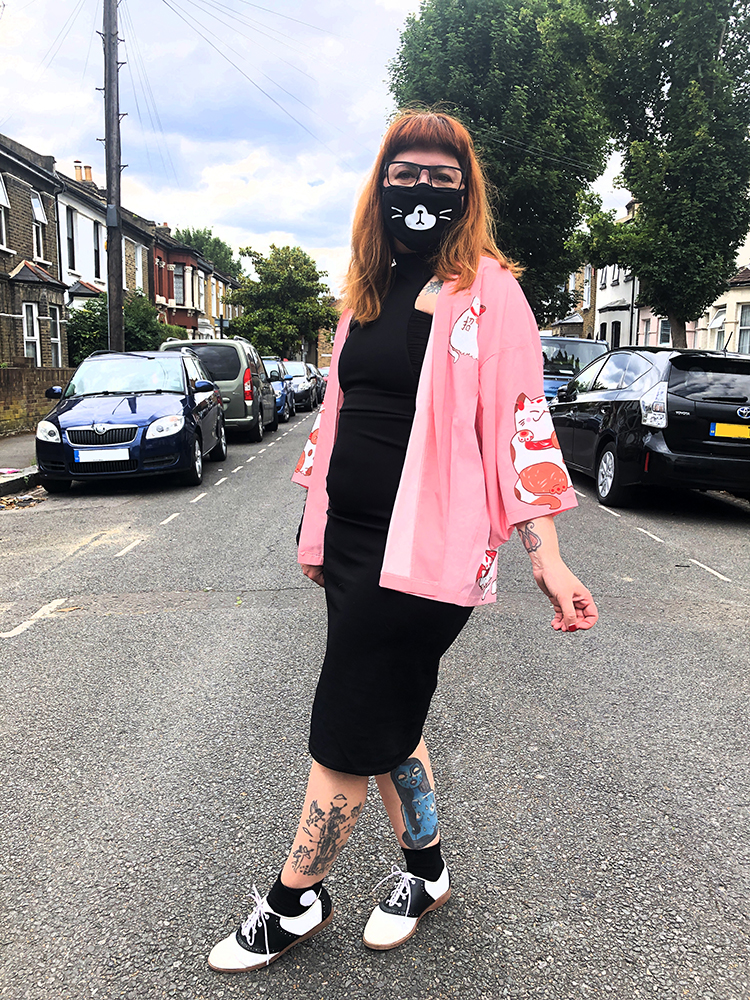 Last and not least, one of my favourite recent outfits! As the lockdown is easing up in the UK, people are emerging to a new reality – one that includes masks and social distancing. As such, I decided to include one in this photo, as the outfit is cat-themed anyway!
Cat Mask – From a set from Ali Express
Haori Jacket style overshirt with Maneki Neko motif – Zaful
Pompom Socks – Monki
Saddle Shoes – Can't remember the name of the brand, got them from eBay in the US
Black One Shoulder High Neck Bodycon Midi Dress – Femme Luxe (gifted)
And with this last outfit, I shall continue to dream about going out, seeing my boyfriend, seeing my friends and generally having a somewhat normal lifestyle.
Once again, many thanks to my housemates Retta and Voni for being patient and putting up with my photography requests!