Recently I went down to the National Portrait Gallery to see one of their current exhibitions: Vogue 100 – a Century of Style. Having attended the event for the launch of the collection of pieces and designers that would be available at the exclusive shop at the museum, it was only natural that I should see the actual exhibition. So I did. This post doesn't intend to be an exhaustive catalogue of all the photographers and pieces present at the exhibition but rather a very personal view of it. Many important artists will go unmentioned in the next following lines but I stuck to my personal favourites, which I hope you will enjoy.
As the title of the exhibition implies, this has been organised by the NPG in collaboration with British Vogue, to celebrate the 100th anniversary of the publication. Expertly curated by Robin Muir who is a Contributing Editor to British Vogue, taking us on a visual trip down the majority of the 20th and early 21st centuries.
Photography wasn't one of the main features of the magazine in its inception but it quickly became so, especially after the first photo cover was launched in 1932 and printing techniques improved. It would appear that after that date, photography became the main media on the magazine, although sometimes I still feel that illustration does have a lot to offer that photography isn't able to. However, as the main focus of the exhibition is photography and it's still something I love, I'm not really complaining.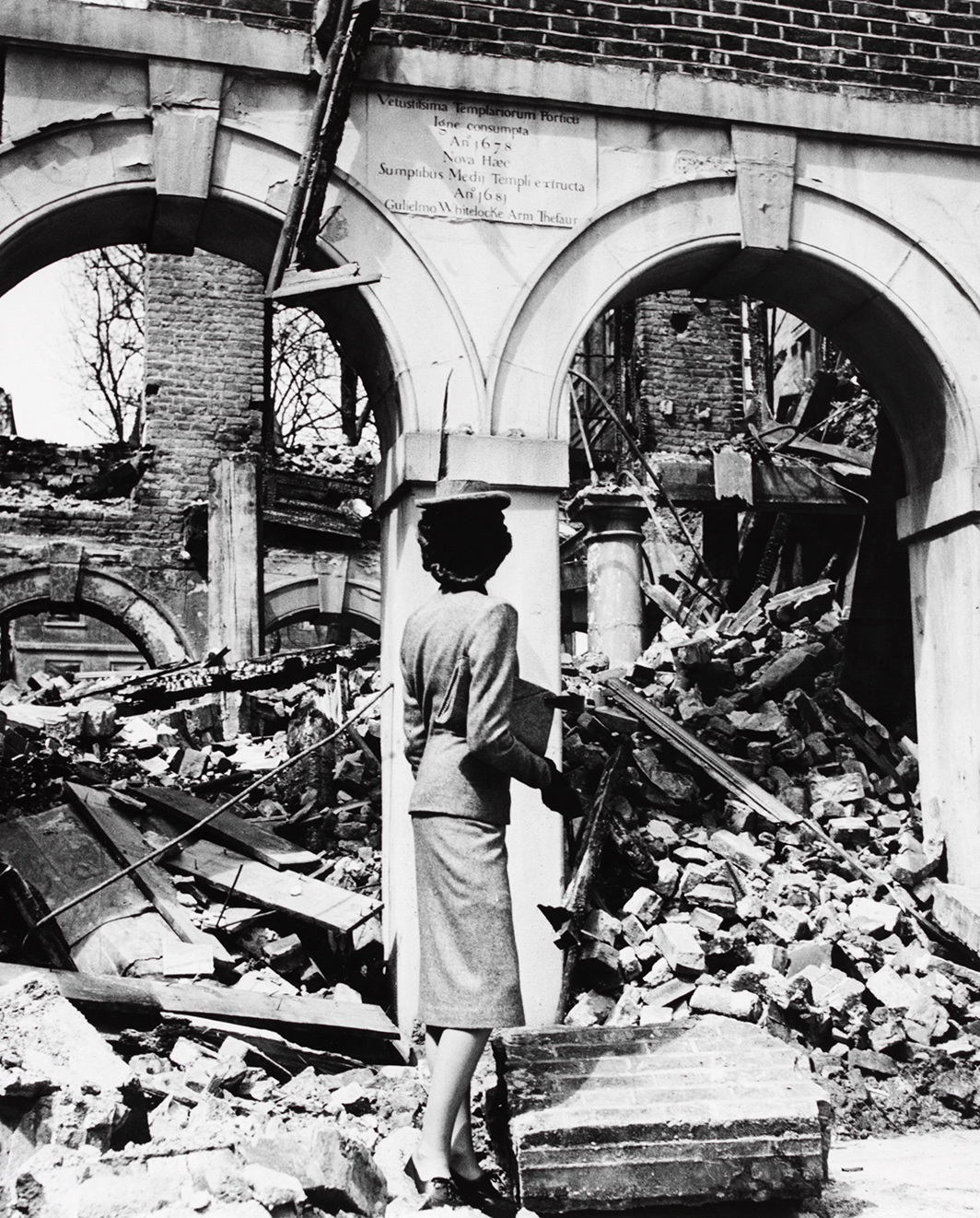 Fashion is Indestructible by Cecil Beaton, 1941 ©The Condé Nast Publications Ltd
The exhibition is organised by decade, starting in the 1910's, of course. It was a real pleasure to see a couple of Eduardo Benito's original gouache and pencil illustrations, as Art Deco is one my favourite styles and inspiration. Cecil Beaton, another renowned photographer is present: he started contributing to the magazine in the 30's and his contributions can be seen throughout the whole exhibition in the next following decades. What a long and rich career he had!
Lee Miller, who was also the theme and center of an exhibition at the Imperial War Museum (which, unfortunately, I haven't yet had the opportunity to see) appears at the NPG's show first as a model and you see her later as a photographer in her own right. She was Vogue's war correspondent during WW2, adding her feminine vision and perspective to the subject.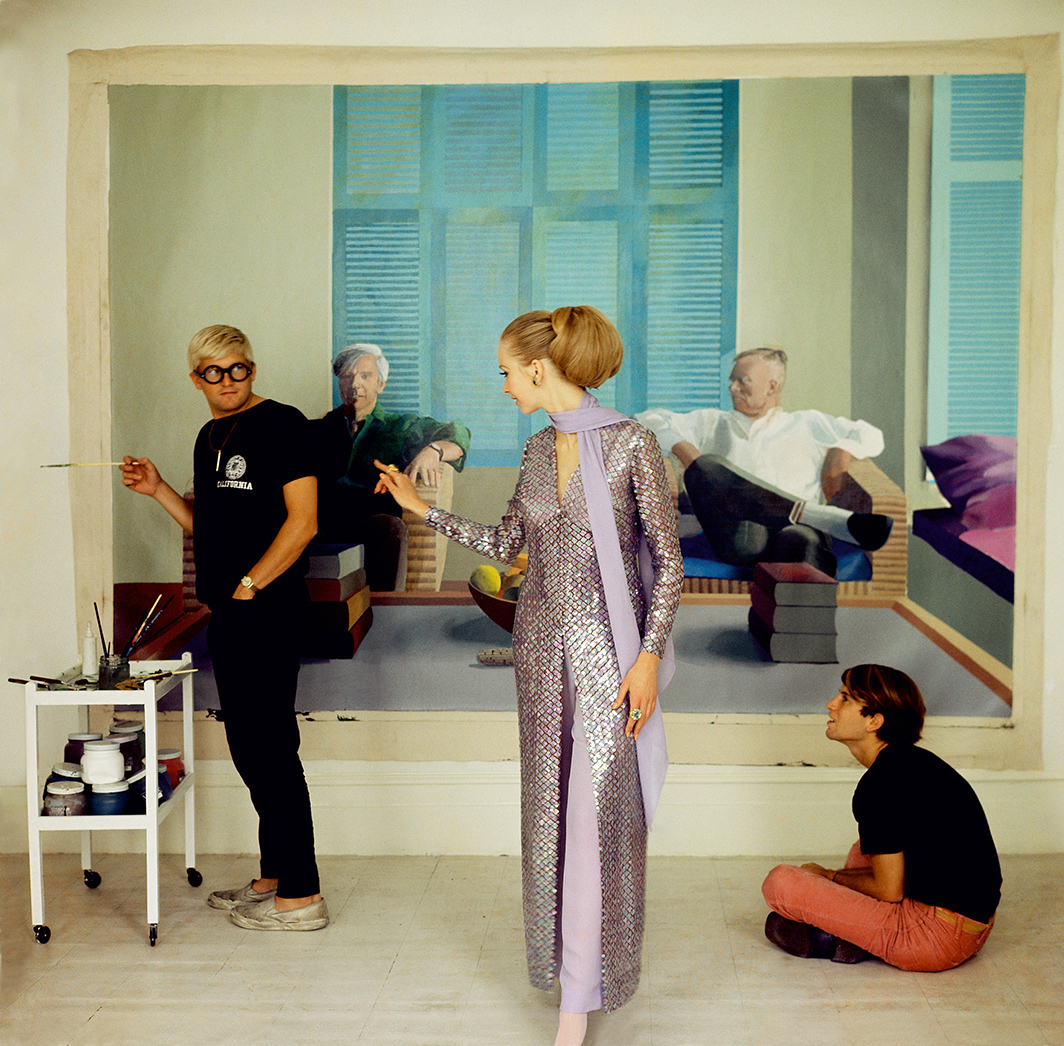 David Hockney, Peter Schlesinger and Maudie James by Cecil Beaton, 1968 ©The Condé Nast Publications Ltd
Photographer David Bailey is also present, and again, his images span a few decades. He is still a force to be reckoned with (especially given his opinion on selfies, which I find extremely amusing) and you can see how it all began in the film "We'll Take Manhattan", depicting his love affair with Jean Shrimpton (also present in this exhibition), his resistance to being controlled by the editor at the time, Diana Vreeland and how he made sure that his voice was heard. A true fashion photography revolutionary, one might even say.
The 70's are well represented in its colourful sexiness, with Helmut Newton making his first appearances in the pages of the magazine. Helmut Newton is a personal favourite (if you ever get the chance to go see his exhibition at the Museum für Fotografie in Berlin, don't miss it), along with Herb Ritts and Guy Bordain, represent in my mind's eye what the 70's looked when it comes to fashion photography. Saturated colours, strong looking women and a sophisticated style that I believe have been somewhat lost in the following decades.
Limelight Nights by Helmut Newton, 1973 ©The Condé Nast Publications Ltd
In the 80's section, I would highlight the photos of Paolo Roversi, whose eerie looking photos were completely ahead of his time and predicted an aesthetic that was only developed a few decades later, as fashion photography became more and more artistic. The 90's were, of course, the supermodel era and the section of the exhibition dedicated to the decade is a very good reflection of this. Linda Evangelista, Claudia Schiffer, Naomi Campbel et al are all represented and can be seen through the lens of several photographers. This is also the decade when one of my favourite photographers, Ellen Von Unwerth, also made the transition from being in front of the lens as a model to being the one pressing the shutter. The result is a collection of extremely feminine imagery, dripping with fun, sex and a carefree attitude towards life. Also worthy of note is the "Anglo-Saxon Attitude" photo series by Steven Meisel that to me looks like it could have been shot yesterday, as the looks are timeless and the photography, impeccable. I had seen this series before at the exhibition dedicated to Isabella Blow's life and work previously and it is good to see that it keeps coming back, as it's such an amazing series.
Somewhere along the way you can also get an impression of what might be like to be a Vogue editor and art director, as there is a simulacrum of a planning room – a slide projection room where both professionals view the results of photo shoots and select the best 'edit' of the photographs that will grace the magazine's pages.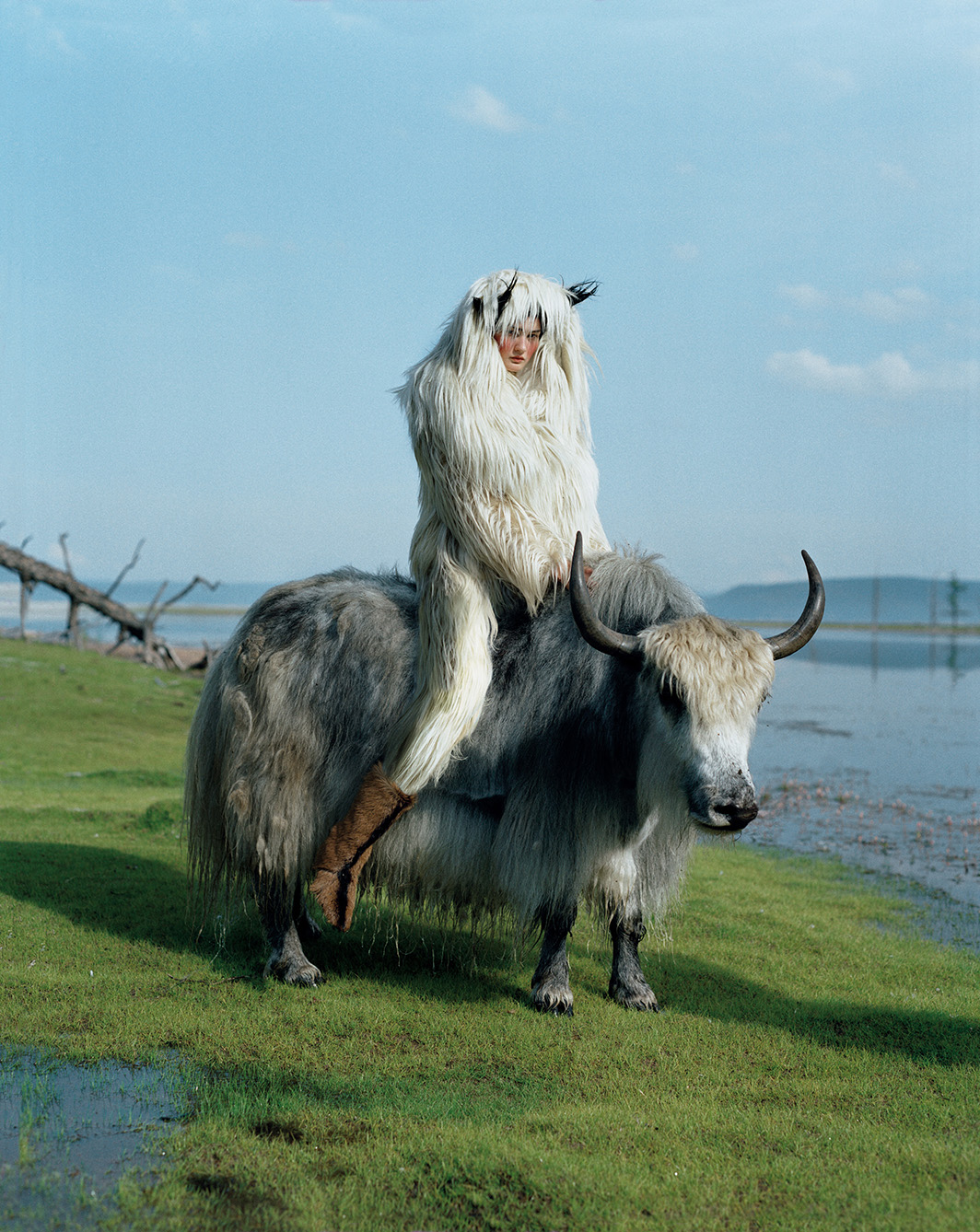 Kirsi Pyrhönen in Mongolia by Tim Walker, 2011 ©Tim Walker
In the 2000's one can see the emergence of a few new other photographers and with them a whole new aesthetic, more fantasy oriented, which I find absolutely marvellous and captivating. I am talking about Tim Walker, of course, who had his own exhibition at Somerset House in 2012 and whose work I obsessively save on Pinterest. It's the stuff that dreams are made of.
Overall, I enjoyed this exhibition. It is interesting to observe how Vogue, despite being a fashion magazine and by some considered vapid and devoid of any substance, closely follows and reflects the world's history and trends. I believe that anyone who says something like this is probably not paying enough attention, as fashion as well as any other cultural manifestation, is a product of its time and circumstances. Something like visual "opium of the people" sometimes, but still damn interesting to look at.
Vogue magazine also did active promotion of the arts: Picasso and Jean Cocteau's drawings, Sonia Delaunay's designs or the coverage of the opening of the Bauhaus school are just a few examples of the magazine's involvement in the arts. More recently we have also seen other contemporary artists benefiting from appearing in the Vogue pages – Tracey Emin, Cindy Sherman or Nan Goldin are only a few of my personal favourites.
As such, I think this exhibition is of not only of artistic but also of anthropological and historical value. This idea can always be contested, as it presents almost always a perspective from a privileged point of view but it is no less relevant for that reason (this is probably a discussion that would be long enough for an entirely new blog post). I would urge everybody else to go and see it, as it is a real feast for the eyes for anyone, moreover for someone with an interest in fashion photography.
Vogue 100: A Century of Style is at the National Portrait Gallery, London, from 11 February – 22 May 2016, sponsored by Leon Max.
I was a guest of the National Portrait Gallery but as always, words and opinions are my own.