What have I been doing during this lockdown? Quite a few things, actually. Between packing up my stuff to move, learning Norwegian and working on a couple of projects and commissions, I have also been spending more time cooking nice food and generally trying to have the best time possible, given the circumstances
I also got a few outfits together, as I received a few more items from Femme Luxe – and although most of them are lounging or casual items, they were the perfect excuse (and motivation) to actually wear something nice and not just PJs.
Here's the first outfit, worn on a shopping outing a couple of weeks back: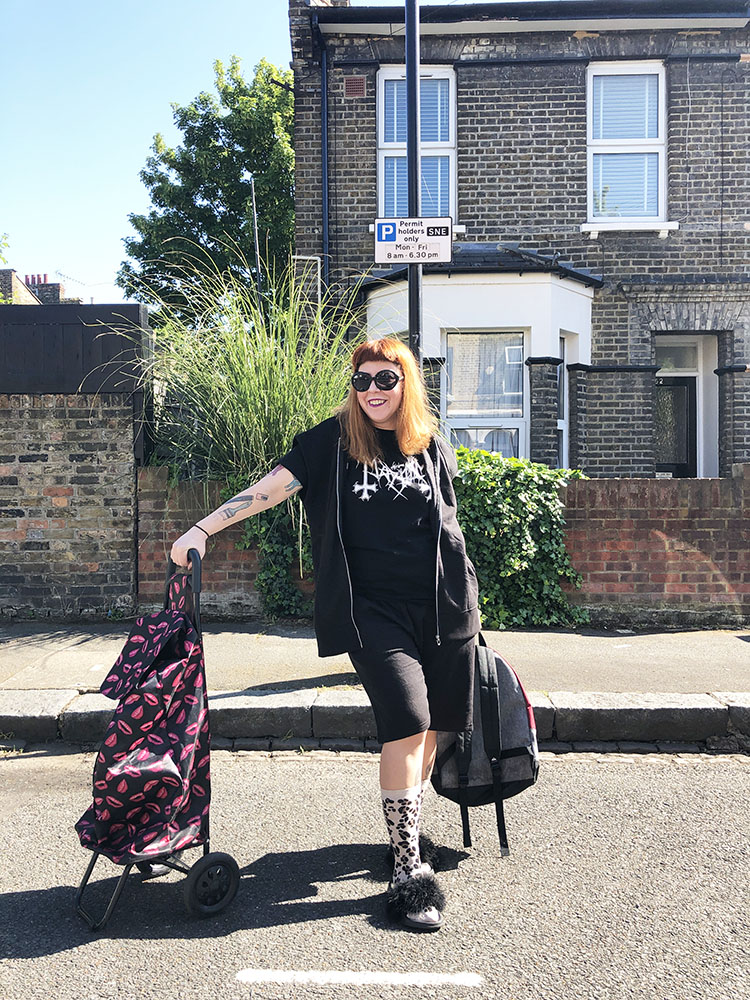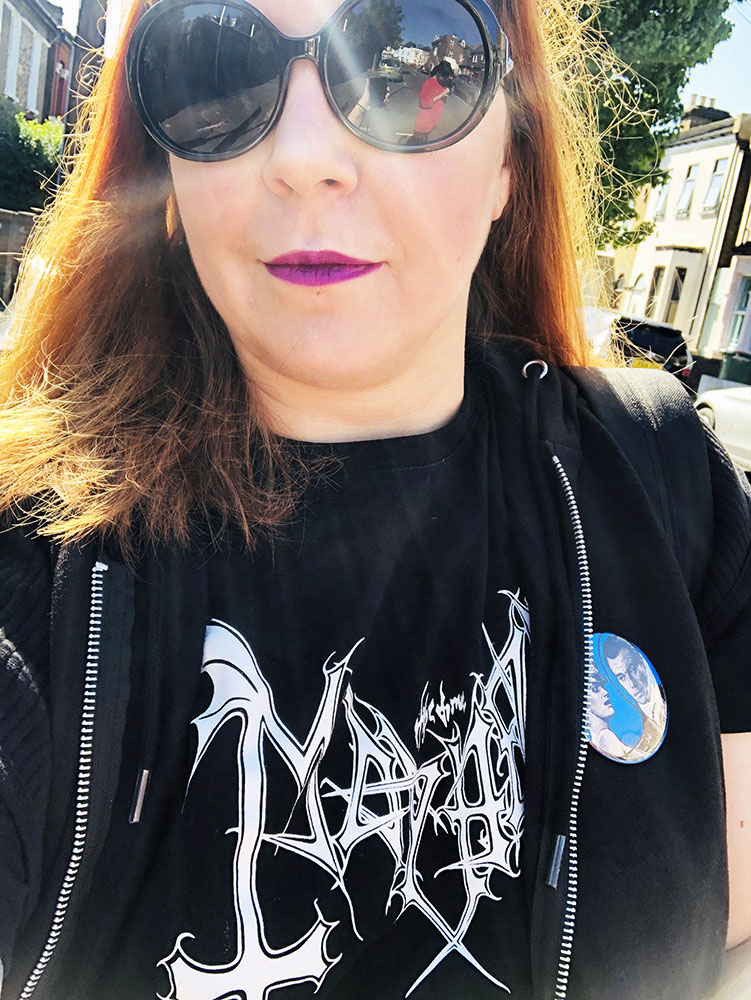 Outfit Details:
Black Oversized Hoodie Shorts Loungewear Set – Femme Luxe (gifted)
Sunnies – Moschino, via TK MAxx a while back
T-shirt – Mayhem band tee (got it when we saw them play in London last year)
Badge – gift from my friend Oliver in Germany
Leopard Socks – Poundland
Fluffy Sliders – Shoe Zone (they're super comfy!)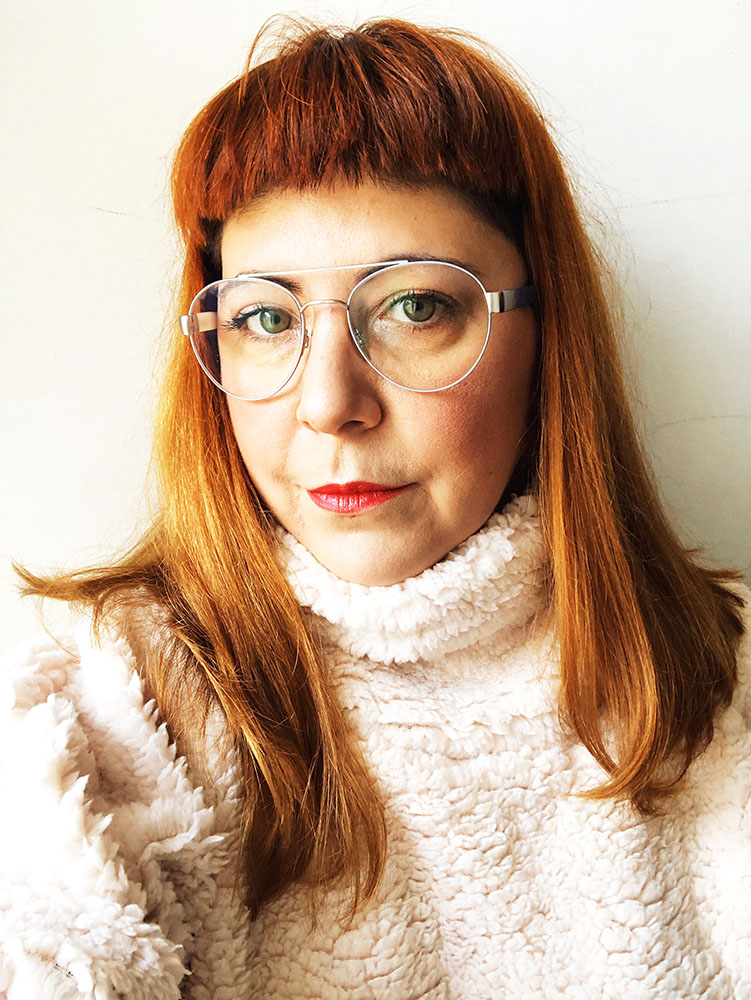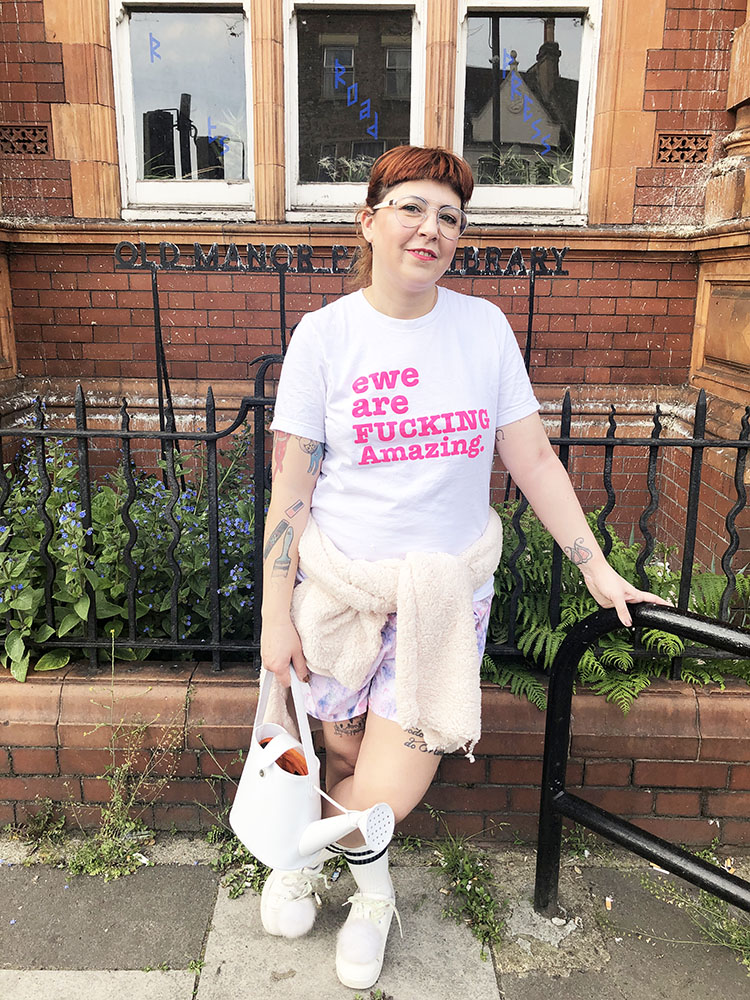 A few days later I went for a walk with my housemate in the neighbourhood  – I really needed to loosen up my hips, as all this inactivity is being quite detrimental to my wellbeing. It was a lovely walk and I wore an outfit for the occasion as well. I can't stress how soft and comfy the oversized jumper is, like being hugged by a sheep.
Cream Sherpa Oversized Jumper – Femme Luxe (gifted)
T-shirt – Gift from LA based artist Little Ricky
Active Shorts – Alice Liveing x Primark
Sports Socks – I want to say Uniqlo but I can't remember anymore
White Pompom Shoes – from TK MAxx
Watering Can Purse – Pylones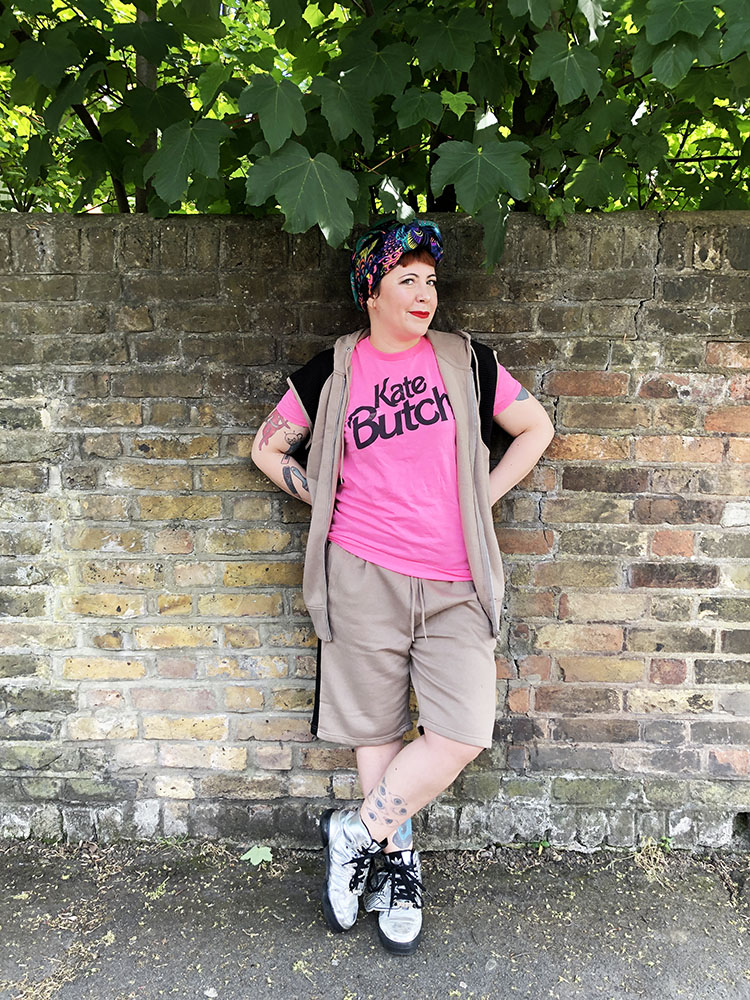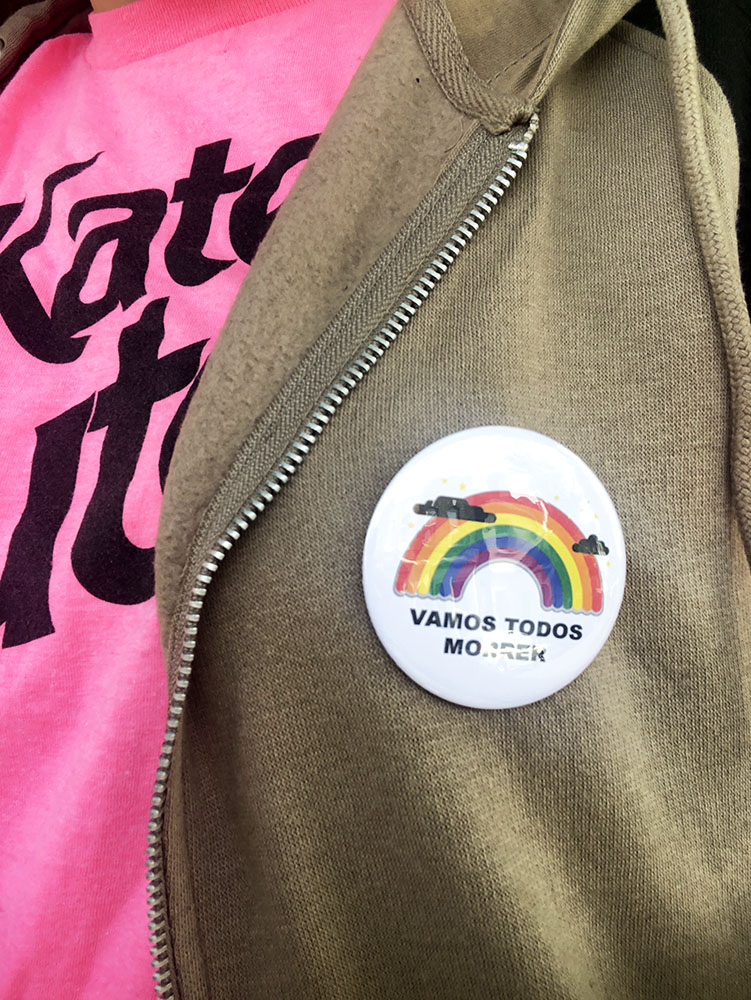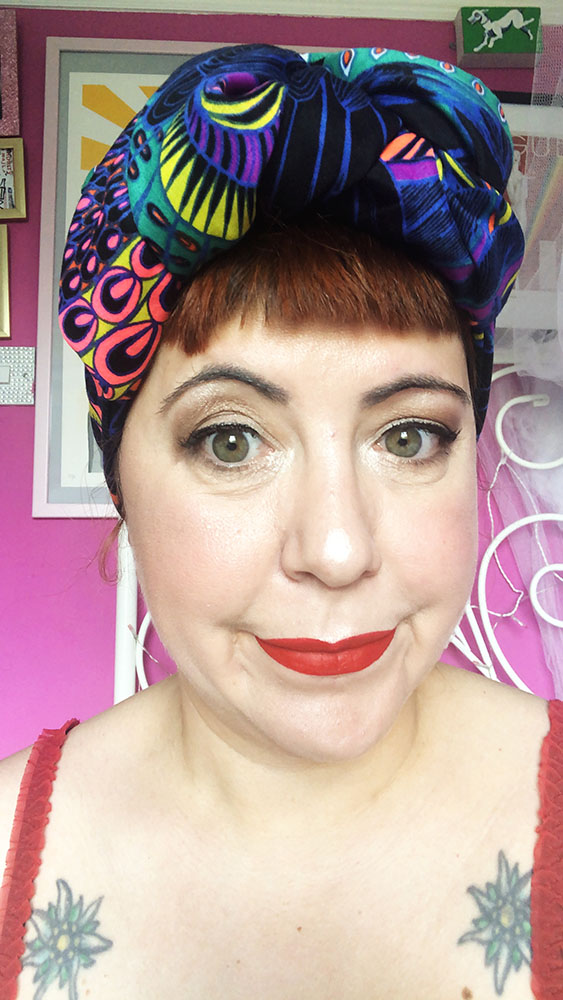 Another day at home, wearing something practical, while I did some more packing in preparation for my impending move. I did my makeup for fun as well, and you can see me wearing one my my favourite liquid lipsticks from MAC. The loungewear set is the exact same one as in the first photo but just a different colourway. I really like these, super easy to wear and I can see myself wearing them quite a lot in the future, as I mostly work from home.
Taupe & Black Oversized Hoodie Shorts Loungewear Set – Femme Luxe (gifted)
Headscarf – A gift from years ago, still love the amazing colour combo
T-shirt – A gift from Kate Butch zine, a US-based queer zine I have collaborated with in the past.
Pin Badge – a gift from my friend Marta back home in Portugal. It reads "we are all going to die" and it's a tongue in cheek reference to the positive messaging around COVID-19.
Winged shoes – Jeremy Scott for Adidas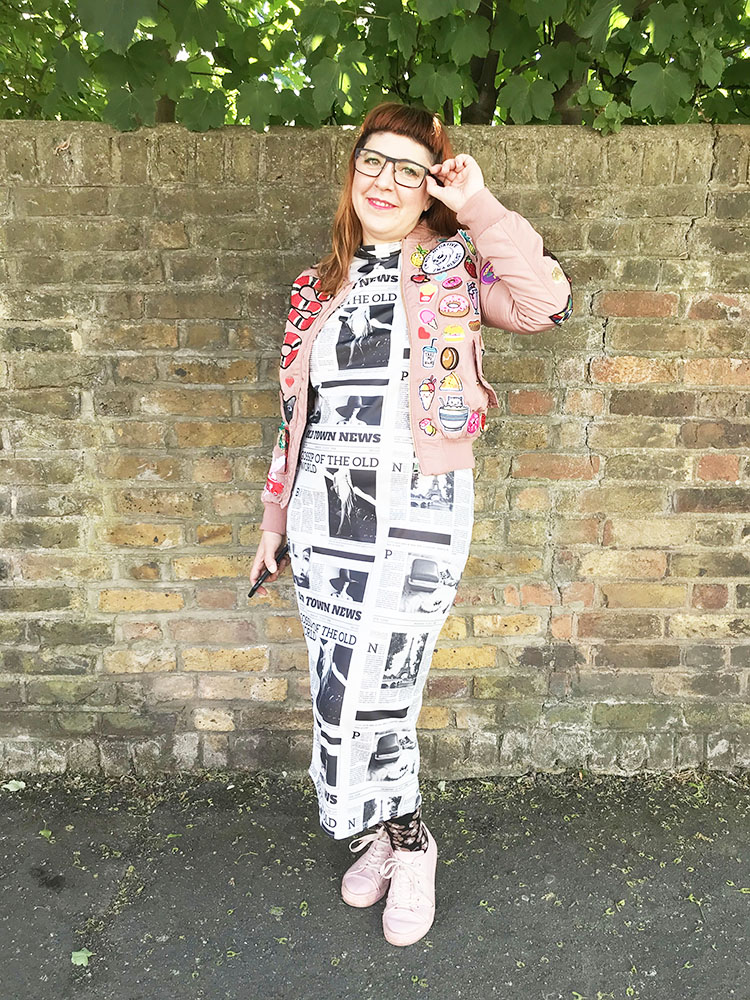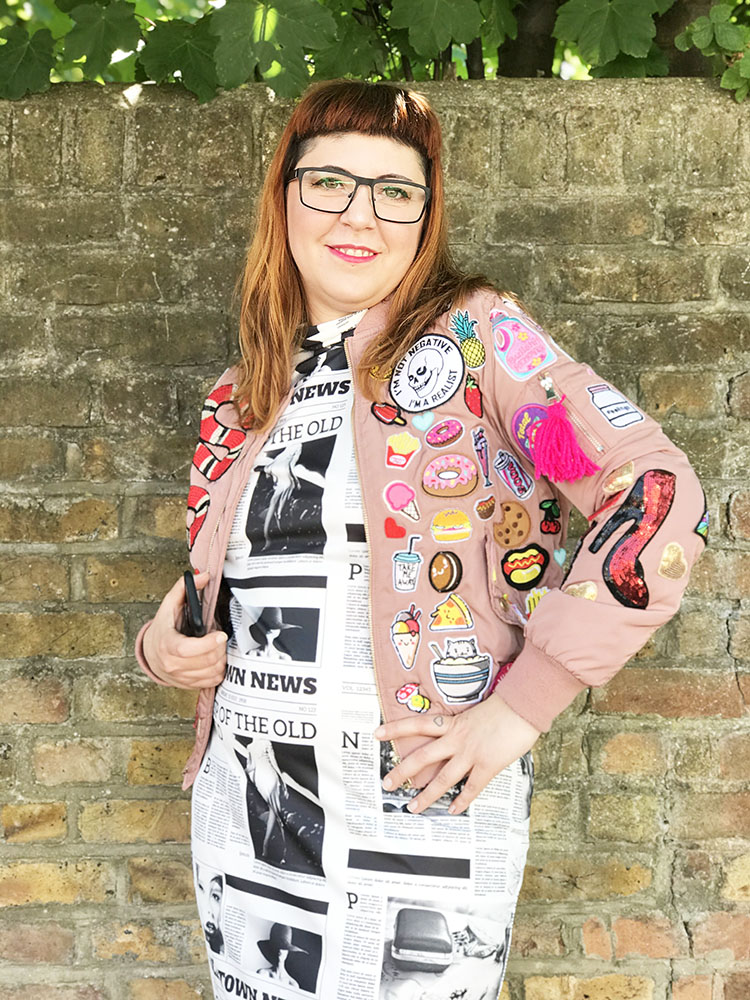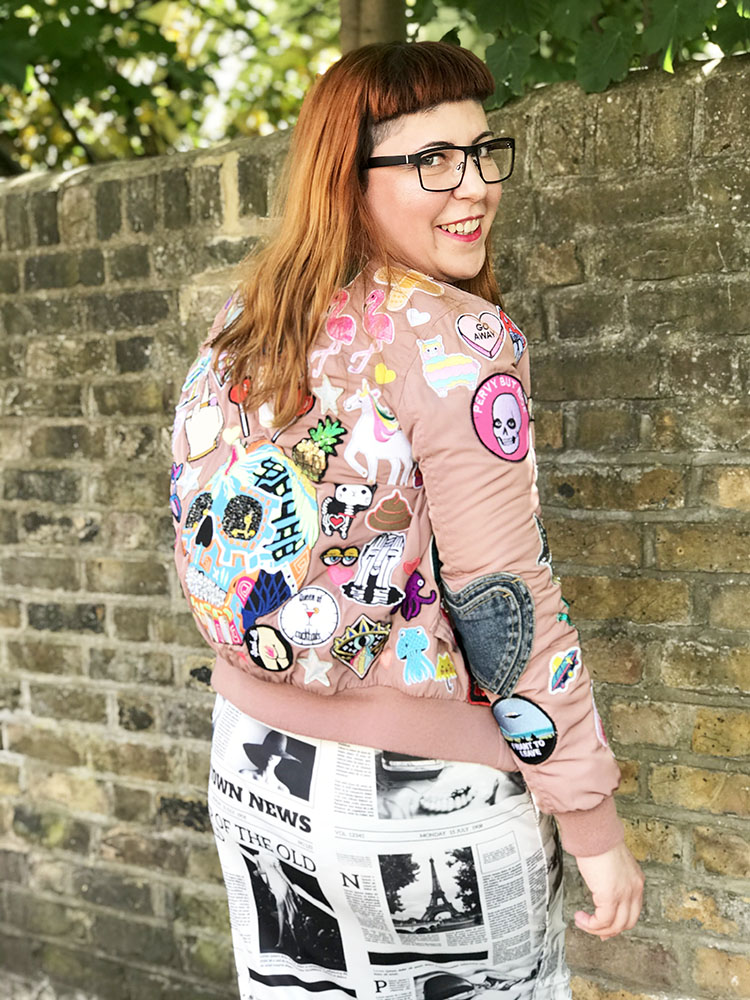 It took me a few days to get round to photographing this lovely dress but only because I wanted to wear it with my finally finished squad jacket. My good friend Ross and I decided to get matching squad jackets, a sort of "bestie" jacket almost 4 years ago. We went to Primark and bought the same jacket. Since then, we have been adding patches to the jackets, on and off and after almost 4 years it is finally complete! I am so happy that I can move forward and work on a few other battle jackets I have in the making.
Details:
White Slinky Newspaper Print High Neck Midi Dress – Femme Luxe (gifted)
Jacket  – Primark
Patches – Miscellaneous, mostly from eBay
Leopard Socks – Poundland (they're a current fave, as you might have guessed)
Pink Shoes – no brand, bought them a few years back when I visited Portugal.
And that's it, for the lockdown style (for now, at least). To have a look at the art projects I've been working on, check out my Instagram page.
Many thanks to my housemates Retta and Voni for being the style photographers during this period!