What a strange time to be alive! I've been meaning to do this post for weeks now, but for some reason, it just didn't feel right. Maybe it was the shock of being in lockdown and isolation, who knows. But what has to be done must be done eventually and I actually felt like revisiting the photos taken on our trip to Hamburg.
I was invited by Bona Berlin to participate in the "Femmes Vandales" art show at the UrbanShit Gallery in Hamburg, alongside many other super talented female artists, as a celebration of Women's Day. It seemed like a great excuse to go back to Hamburg and have a nice weekend away. This was an action-packed weekend and I was exhausted by the time I got back to London but it was well worth it. It very lucky that we managed to do it as things started getting a bit worrying regarding coronavirus by the time we were flying back. The next day I went into self-isolation and later an actual lockdown was announced by the British Government. Sadly the exhibition had to close early due to the lockdown in Germany but keeping everyone safe is the most important thing.
As for the clothes packed for the trip, I timed it so I could wear the new pieces I eas gifted from Femme Luxe, and put together versatile outfits, reusing some of the pieces (like the hoodie and the boots, for example) every day as we travelled with cabin luggage only.
It was a great vernissage and opening night on Friday, seeing old friends and meeting other people I only knew by name on Instagram.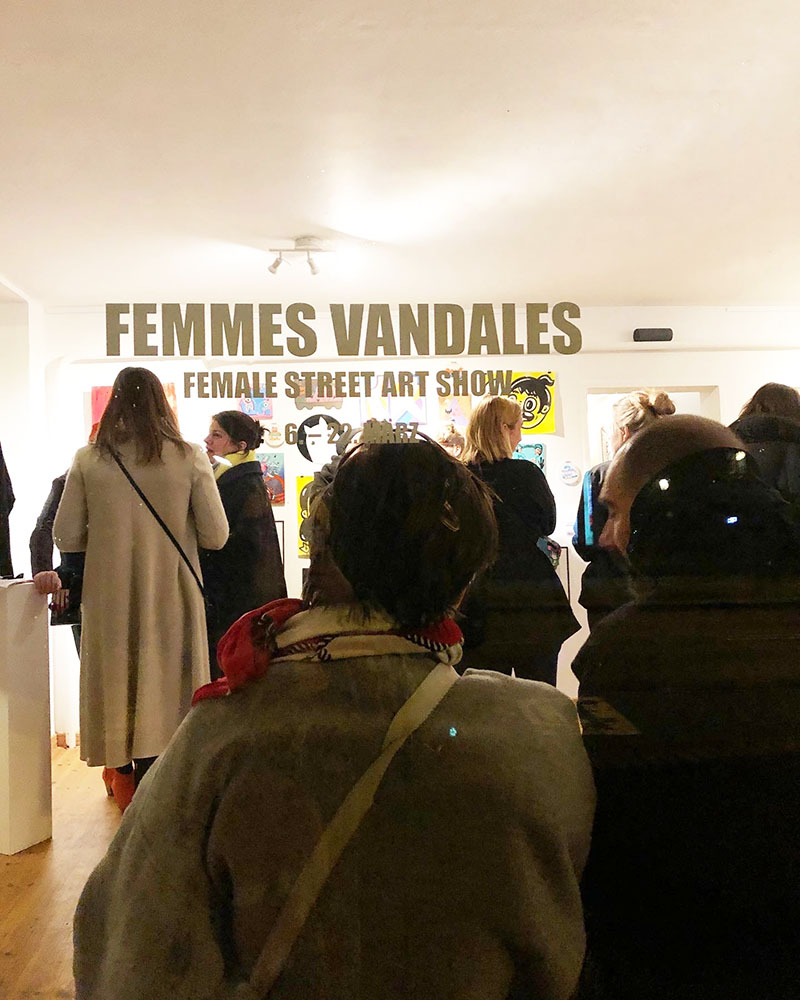 The show was full, with new people coming in all the time, I would class it as a great success!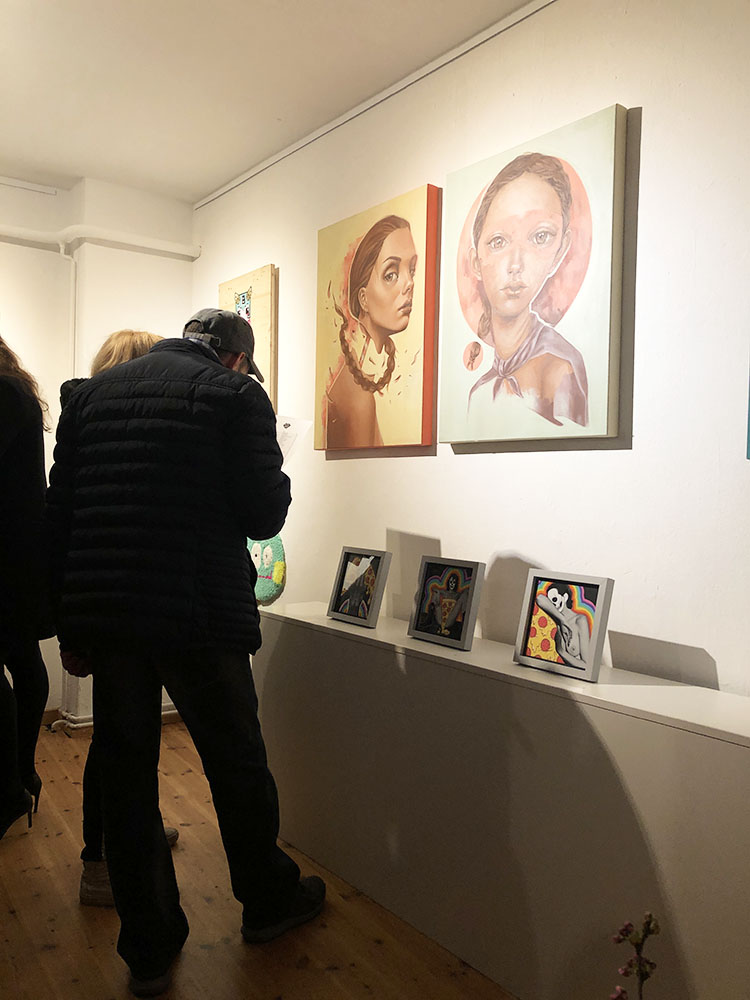 Some of my pieces, all pizza-themed, under Caro Pepe's portraits. I also showed the skateboard I made for the show in Cologne back in November, as it was still in Germany.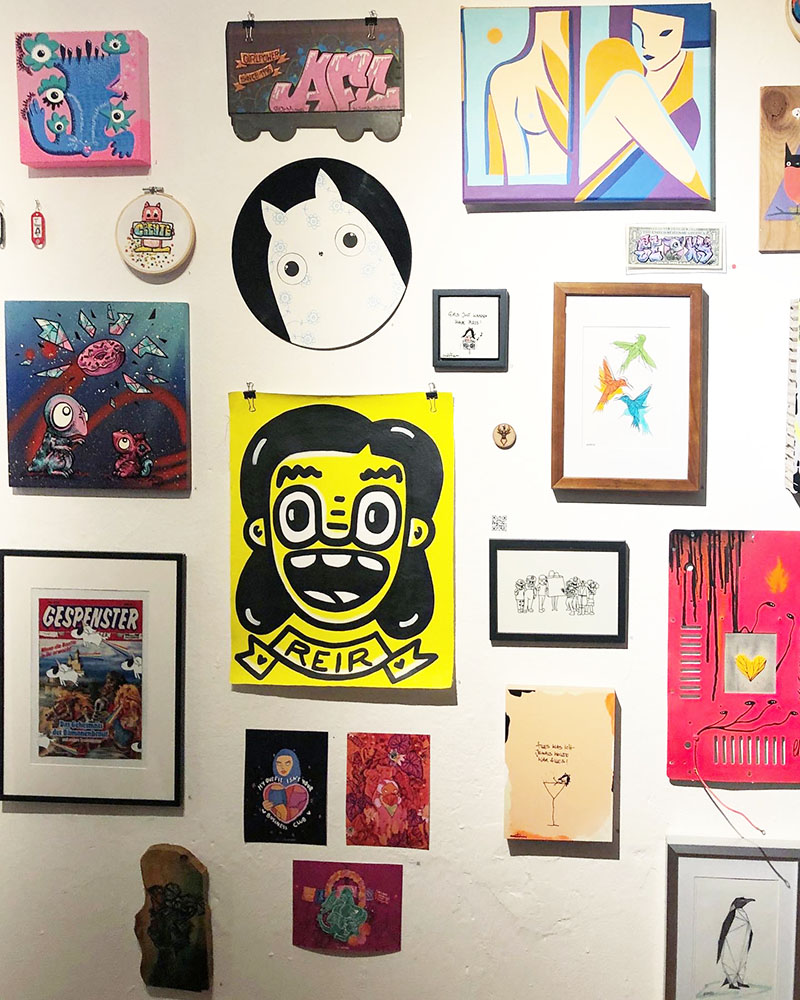 Some of the art on show, featuring artists from all over the world.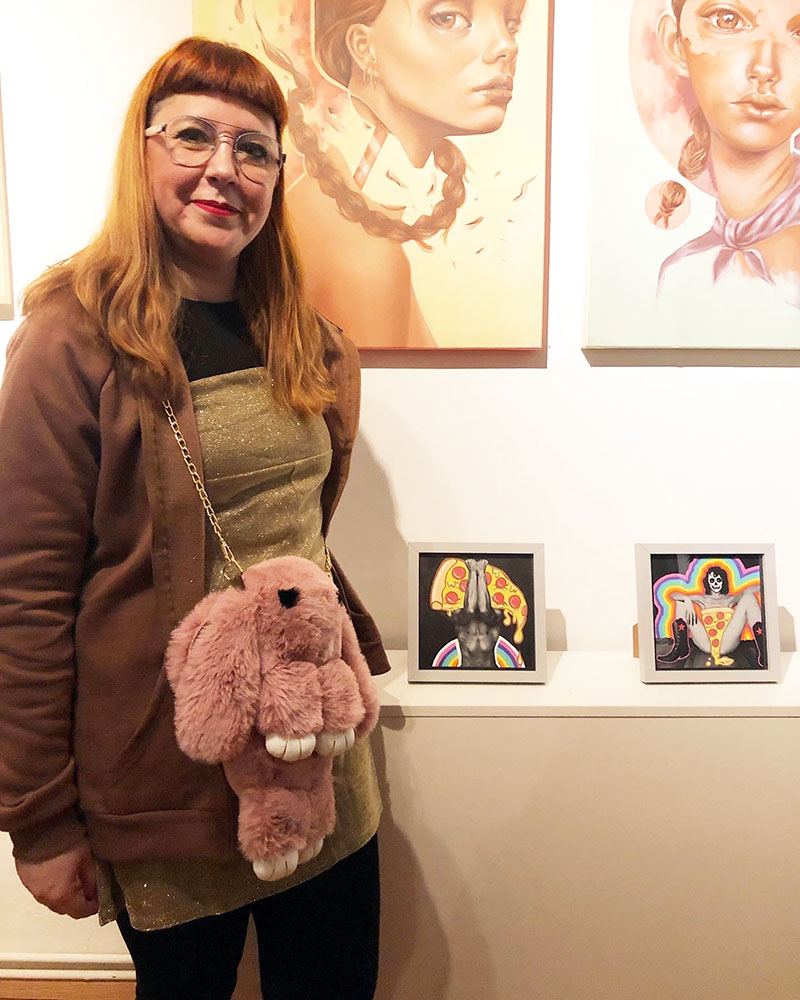 What I wore to the vernissage:
Brown Hoodie -Primark (bought on sale)
Gold Glitter Sparkly Shift Mini Dress – Femme Luxe (gifted)
Pink Boots  – Dr Martens
Bunny Bag – Local shop
The weather was very cold and the rest of the weekend was extremely busy, meeting people, making art and generally having an awesome time. Saturday was time to head to the area around Mathildenstrasse, to meet with other artists and put up some art. We did a pit stop at Marambola's workshop, to do a collab with China Girl Tile and plan our outing. If you visit the Karolinenviertel area you will be able to find some of my art, as well as a few pieces I brought from some of my artist friends in London. Huge thanks to Marambolage for letting me borrow her pens and put up some paste-ups on her workshop's facade!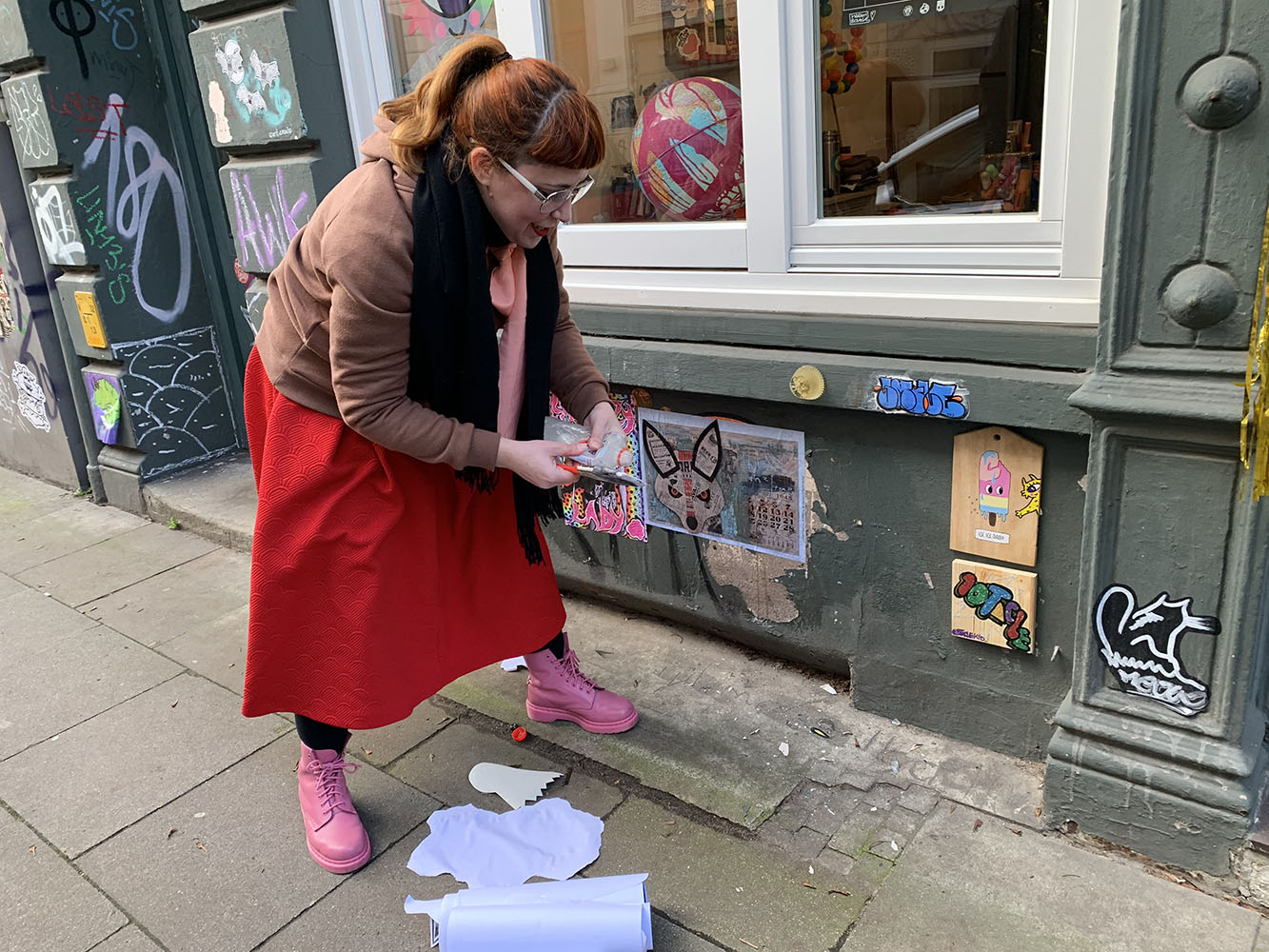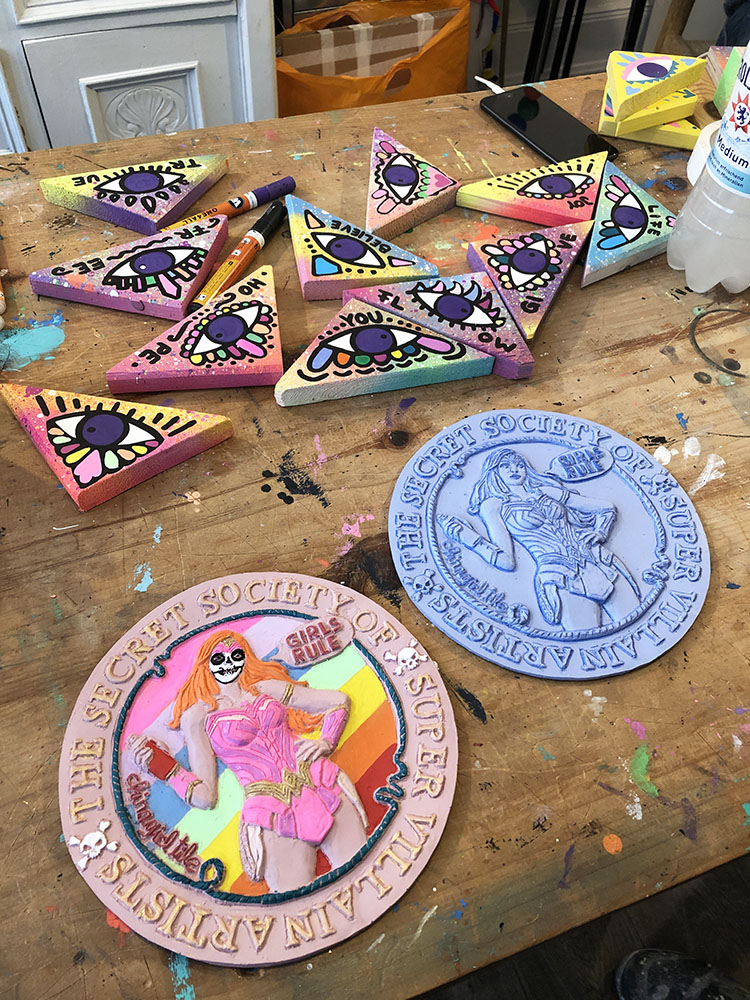 Some of Marambolage's pieces and two tiles by China Girl Tile, one of which I customised and gave it the skull and rainbow treatment.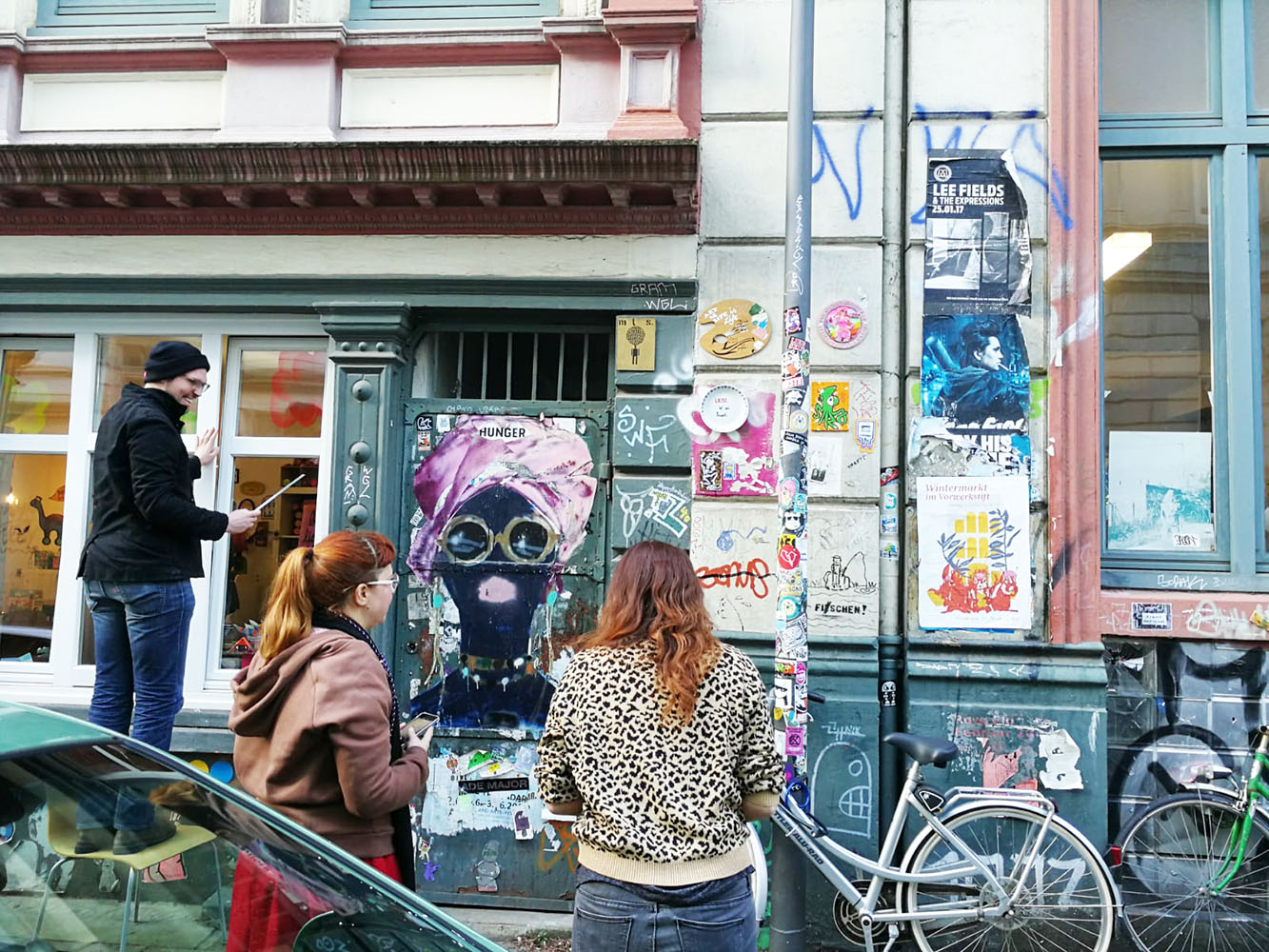 As I knew it was cold and we would be running around with friends, we took the outfit photo at the room we rented for the weekend: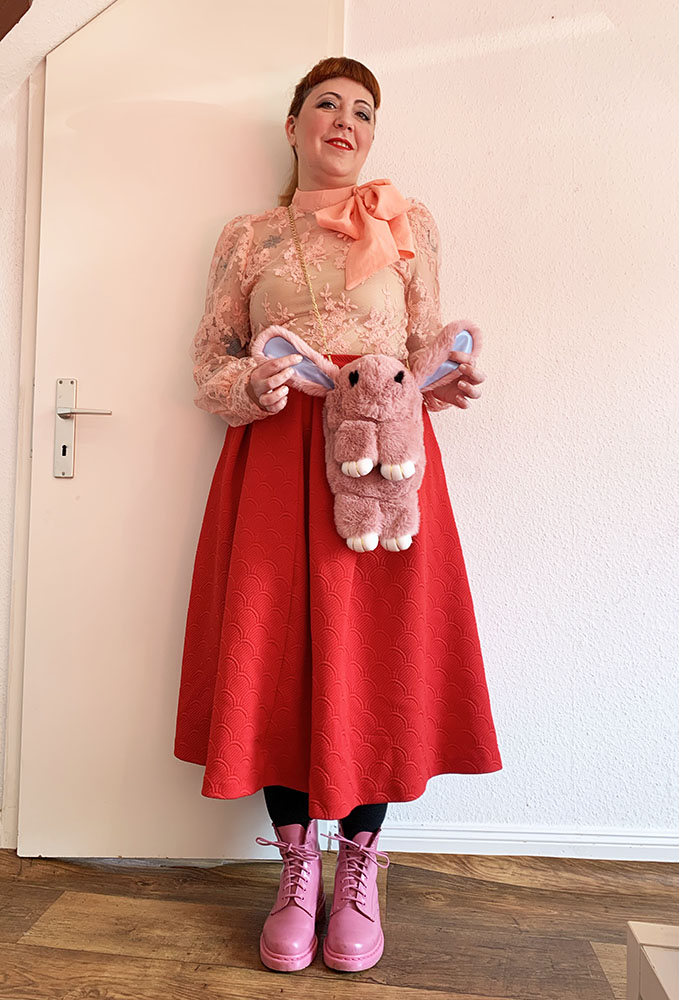 Pink Lace Puff Sleeves High Neck Top – Femme Luxe (gifted)
Bunny Bag – local shop
Nude SLip – Primark
Red Scalloped Skirt – Roman Road Market in East London
Pink Boots – Dr Martens
Sunday was no less busy, I headed out to do a lot of pasting with a few more artists from the art show, and we ended up having the opportunity to collaboratively decorate a trailer at Anderswelt, an all-day sort of club. This was organised by Bona Berlin and it was a great time!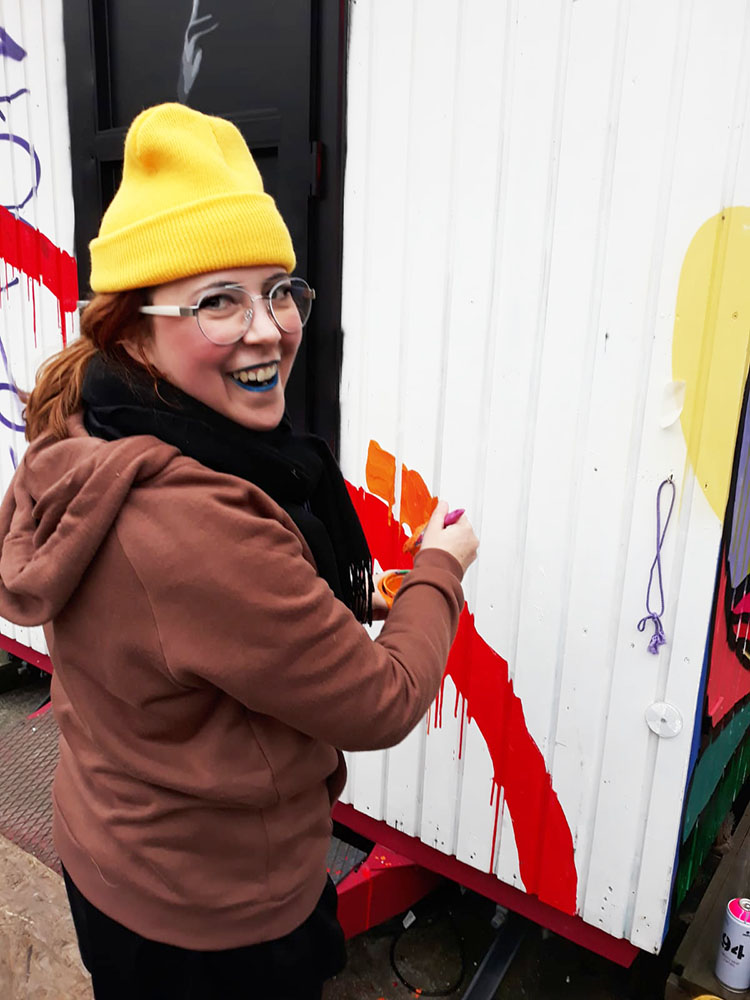 Happy dorky smile, haha.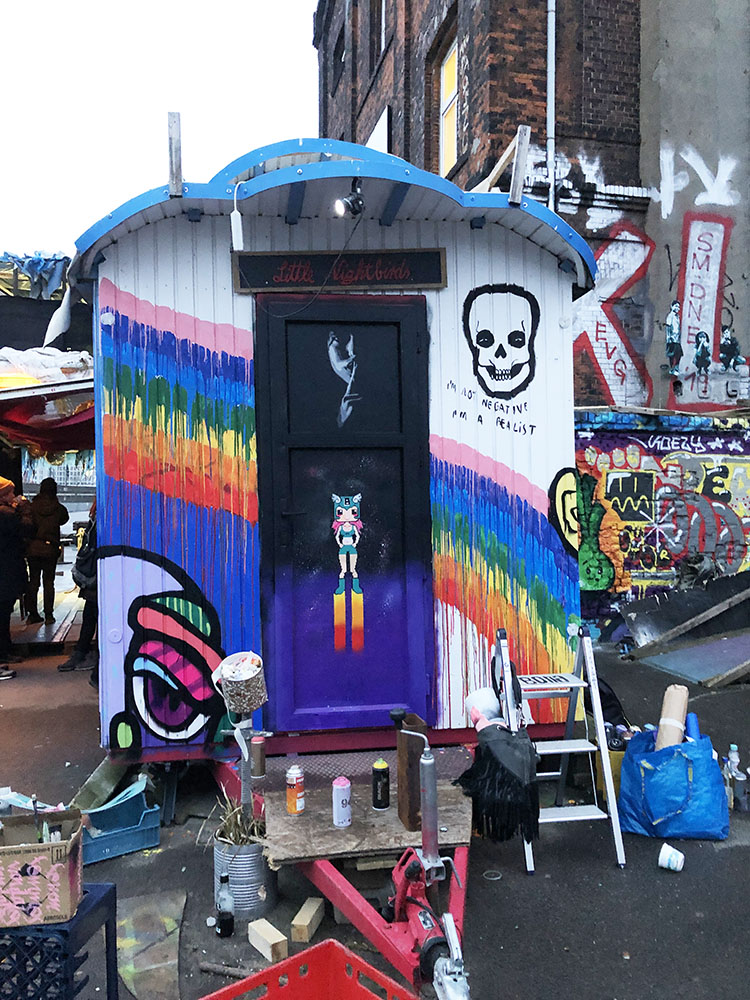 The completed bit – I wasn't too happy with the skull, as I am not used to drawing at that scale, but it was fun to do a few drips, as I hadn't done any dripping for quite some time.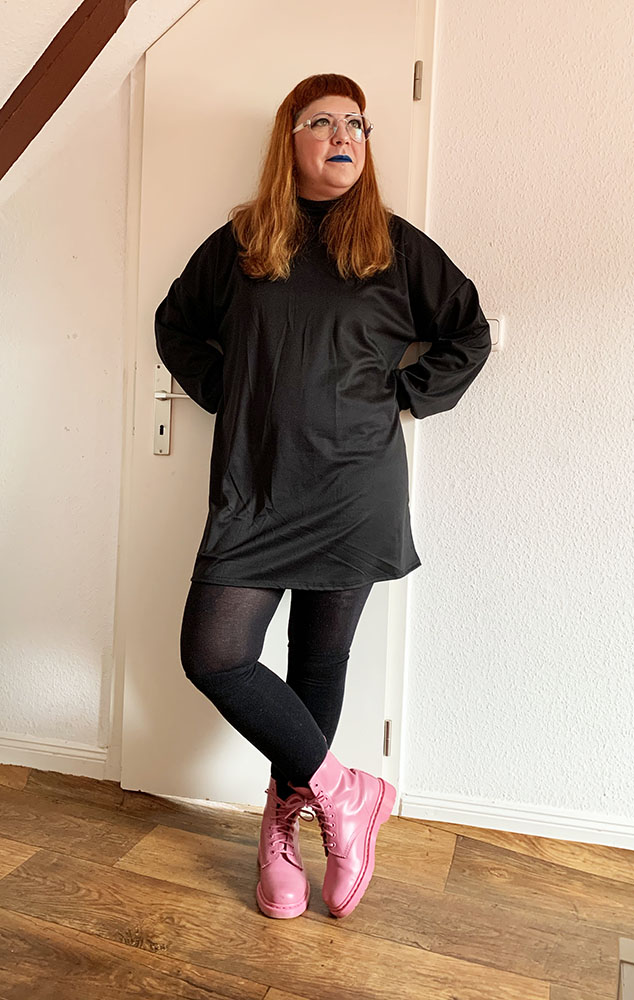 I planned on wearing something practical for that day and it worked out quite well.
Black Oversized Sweater Mini Dress – Femme Luxe (gifted)
Black Knee High Socks – Can't remember! They're pretty generic.
Pink Boots – (You guessed it) Dr Martens
It was super fun to spend more time with the other artists and do something a little bit different.
The next day we still saw my friend Michel before he got his train to Berlin and we had a few hours to go around and see a bit of the city (even though we had to take many breaks, as I was pretty exhausted by this point). Later on, we headed to the airport and that's when we started hearing news about the virus spreading in Europe.
This is what I wore on that day: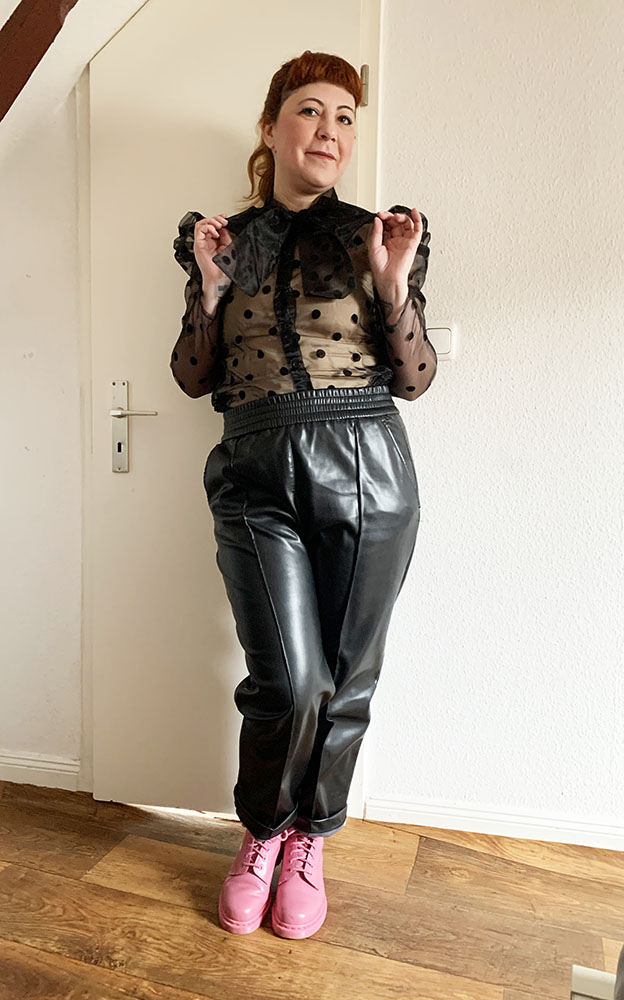 Black Polka Dot Organza Mesh Top – Femme Luxe (gifted)
Nude Slip – Primark
Black Pleather Trousers – H&M (on sale)
Pink Boots – Dr Martens
It was a wonderful weekend, had a great time with my boyfriend, my friends and making new friends. I can't wait for things to regain some normality, so events like this can happen again. Until then, stay safe and wash your hands!