I have been blogging at Hello The Mushroom for the past few years and to be honest, for a long time I've always heard things get thrown around about SEO all the time. "What is SEO? What can it do for you and your blog? Does it really work?". Who hasn't seen these floating around the internet or wondered about it themselves?
It can seem that it's another time-consuming task, (and frankly not that exciting compared to say, going to events and collecting goodie bags, haha) to add to the already long list of things that bloggers have to do to keep their blogs running, among writing content, creating cool imagery to go along with them and all the social media promotion around it. But, having worked in online marketing roughly for the last two years, I have become aware of how important it actually is, if you take your blog seriously and want to drive good results.
So, what is it, anyway? In case this is the first time you've ever heard of it, in short, it stands for Search Engine Optimisation. It pertains to actions and a few tricks you can do to affect how your page performs on SERPs (that stands for Search Engine Results Pages) – i.e., what you can do to push your page up on Google or Bing's results pages, organically.
If I am honest, due to time constraints I'm not as good with taking care of the SEO on my own blog as I should. This is why I thought it would be useful for myself and others to put together a short list of quick and easy tricks that will help improve the SEO ranking on your blog. Just print it out and pin it somewhere around your workspace, so you can go through this easy checklist before hitting the "publish" button.
This is in no way an extensive list, because there are many factors that need to be taken into consideration, however, if you do these simple tasks, it's definitely worth the trouble as it will definitely help bloggers who want to do more with less.
Strive to create good quality content – that's the most important tip one can ever give you. Ask yourself, would I be interested in reading this? If you would, then it's likely that someone will actually search for it.
Keep the titles of your posts short and snappy – 50 characters will do.
Name your picture files – with keywords that are relevant to the blog post you are writing. Example: If you're writing about the "Best Kitchen Items for Under £5", you should probably add Best Kitchen Items to the file name.
Spread your blog posts across social media.
Get other quality websites or blogs to link back to your page. Again, the best way to get other people's attention is by writing good quality content, that will either entertain or help people.
Be careful to not duplicate content on several websites, as Google will penalise your website as it will think it's spam. There are ways to counteract this but it's usually best avoided.
Make sure the relevant keywords you want to talk about appear in the title, text body and meta description.
If you are on WordPress (I am), install the Yoast SEO plugin

– it will add a few fields to fill in on the bottom of the text editor page. It will then tell you if you are doing it right.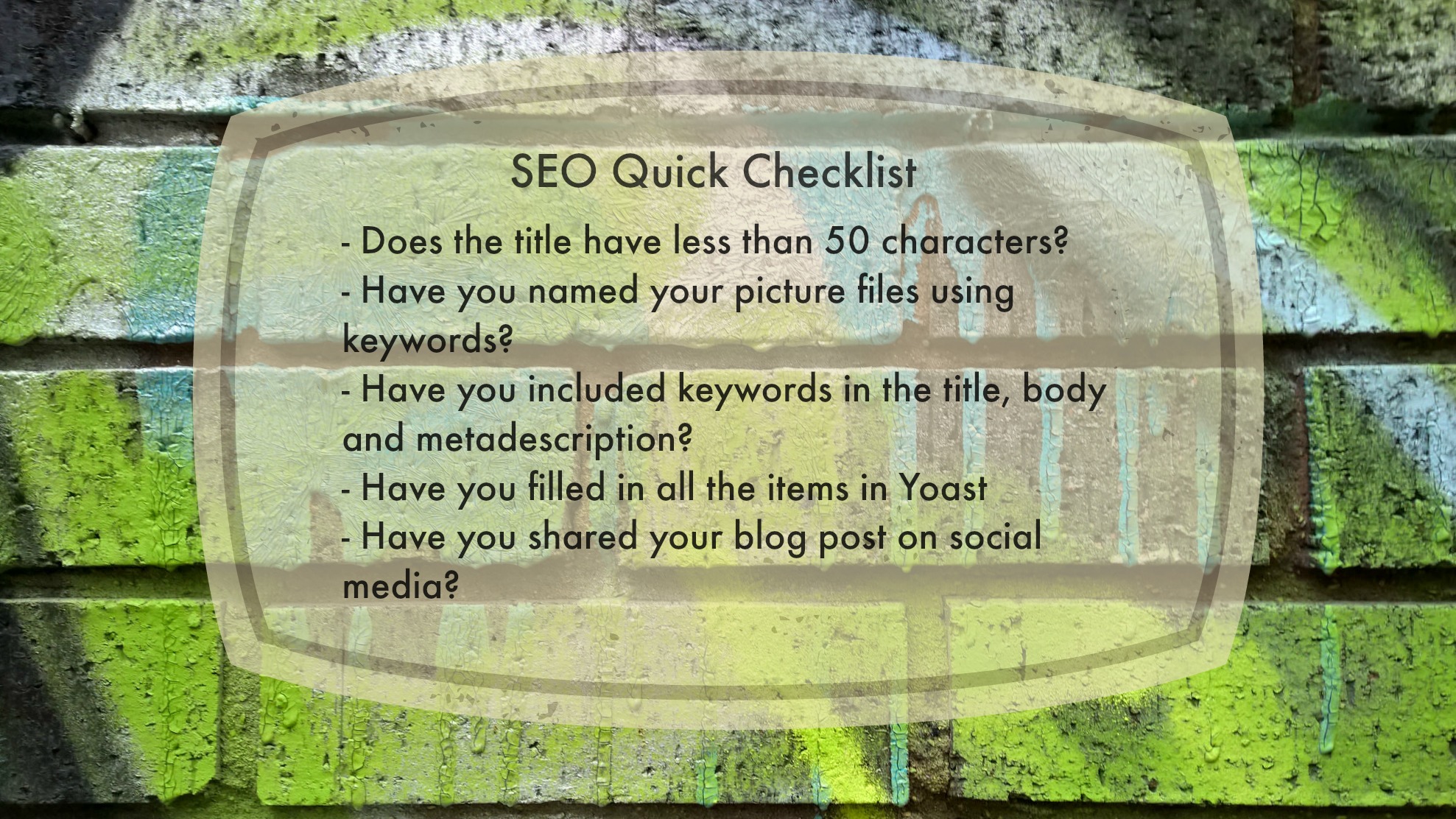 Like I said in the beginning of the post, there is a lot to SEO and these are only a few quick fixes that you can do. The reality is that SEO is quite complex and with Google's rules and algorithm constantly changing, it's a good idea to get a good grasp on the subject. There are several courses that you can do to improve your skills, as it will help your blog's visibility and help you achieve success and who knows, maybe even pursue a career in marketing.
This post has been brought to you by SEO Training London.