In this edition of The Tattoo Files we get to meet Sarah Lambert, a fellow blogger who I have had the chance of meeting in the last year. She blogs over at The Laughing Medusa, covering a variety of topics, that span between London life as an expat, personal style (which is adorable, by the way), and motivational texts, to help you discover your perfect life.
We finally met at some blogger event, after following each other on Twitter for a while and immediately I realised that Sarah was not only super nice, but also had an impressive tattoo collection. She is after all, a girl after my own heart, with her colourful hair, tattoos and quirky style, so immediately I wanted to feature her on The Tattoo Files. After all this time I finally got her to answer some questions about her body art, which I hope you enjoy!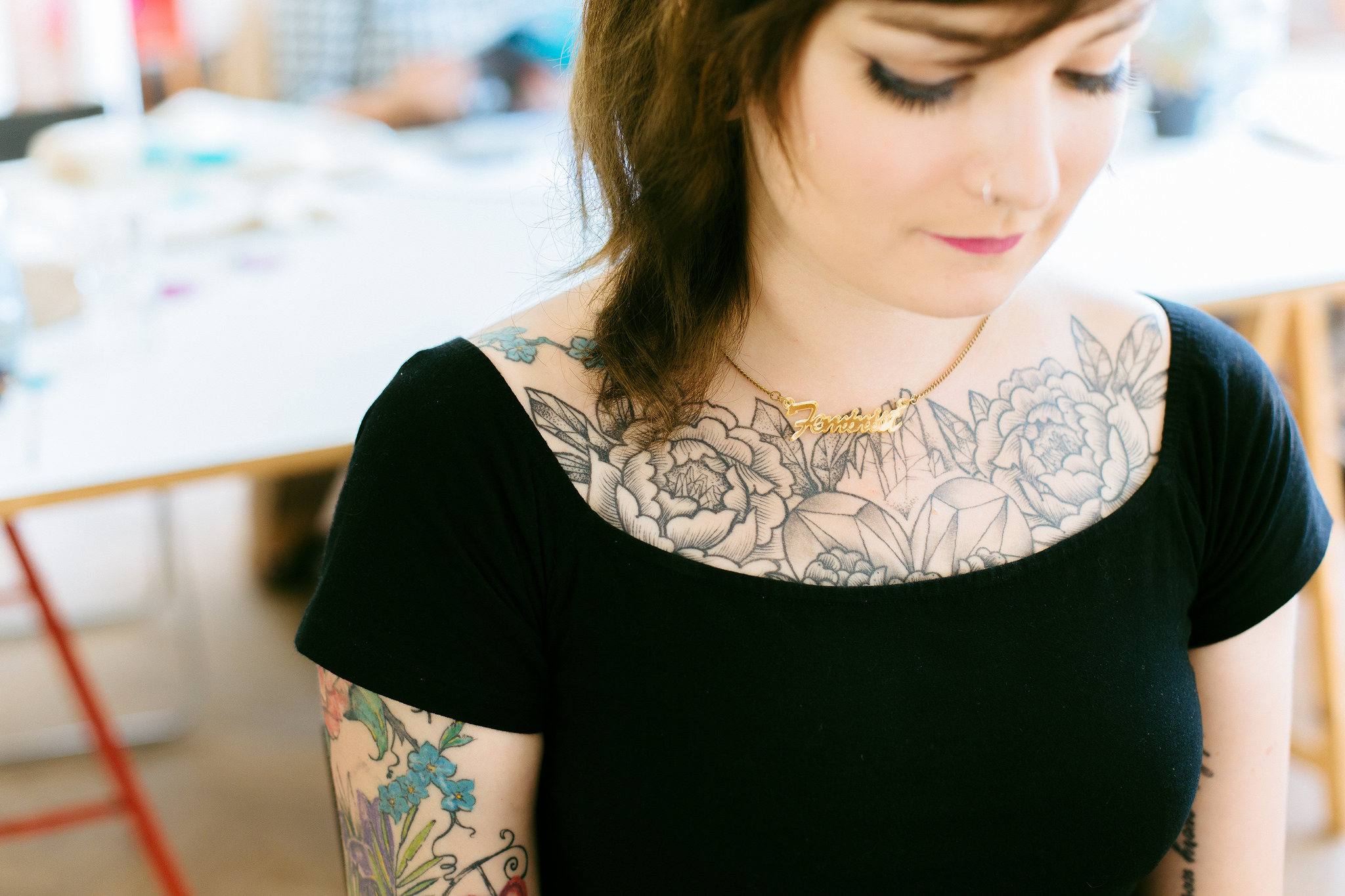 (Photo by Shell De Mar Photography)
Name, Age, Location
Sarah Lambert, 28, London, UK
When did you first become interested in tattoos?
I guess it was in high school. I had a very "punk rock" aesthetic and tattoos fit easily with that. I got my first tattoo when I was 19 – it's a line of script in my handwriting around my wrist that says "Dance like nobody's watching." I got one more tattoo before university (a matching claddagh behind my ear with my best friend). I couldn't afford to get anymore while I was paying my way through school but my collection really started to blossom once I graduated and had a bit of disposable income to my name. On my first trip to London I went a bit crazy and got 5 tattoos in the course of 3 months!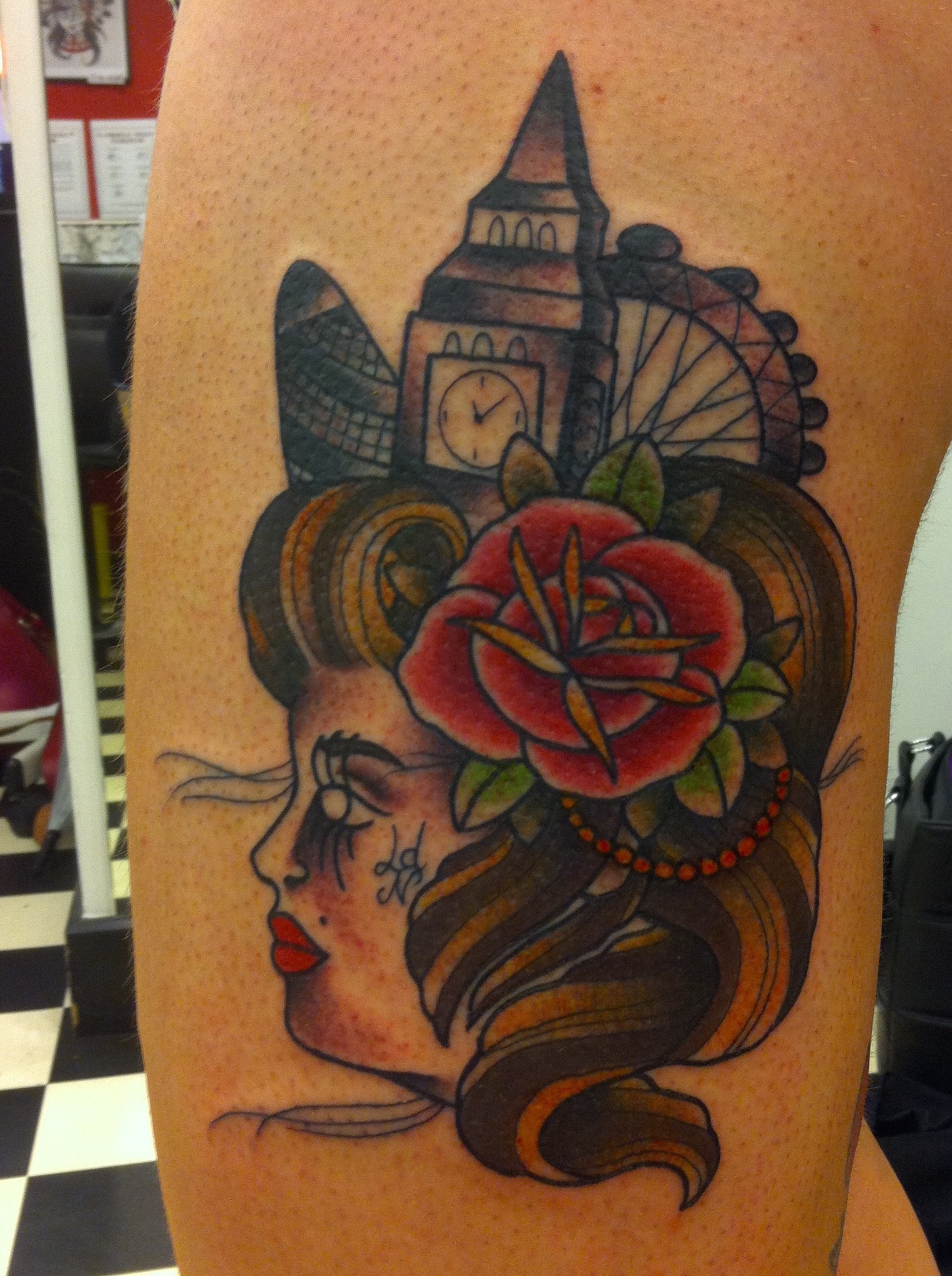 What made you pick your designs?
Some of my designs have been agonised over and I've carefully refined the ideas over time, while others were completely spontaneous and I got completely on a whim. Regardless of how I planned them, they're all infused with special meaning for me. I love many styles of tattoos and I've sort of dedicated different parts of my body to different styles of tattoos, which effects the placement I choose. And, of course, I like to pick imagery that I find interesting and beautiful.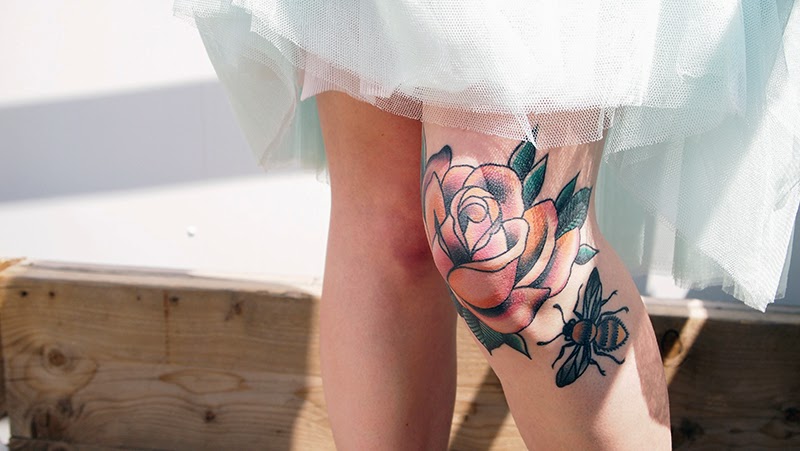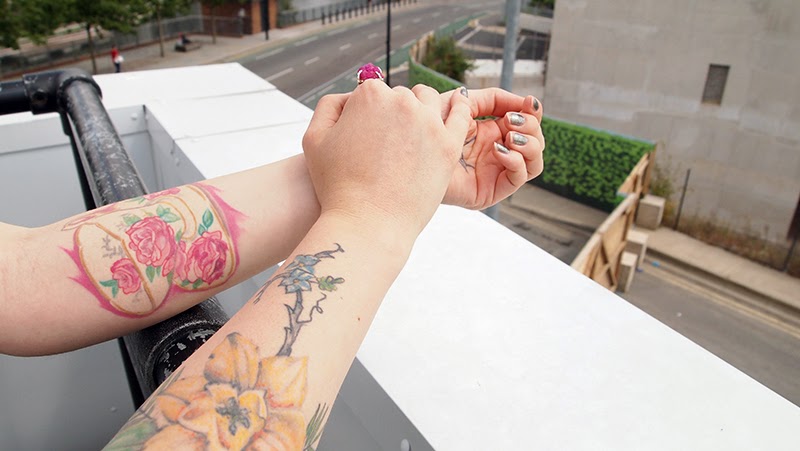 What are your tattoo plans for the future?
I essentially want to be covered in tattoos. I have ideas for what I want on almost every part of my body, except for my back – which I want tattooed as well, but it's such a large canvas, so I want to be sure to make it something extra special. I'm sure some of my ideas will change over time and I've gotten to a place where I really feel like a collector and I only want to get work from artists I absolutely adore. As much as I'd like to get tattooed regularly, I'm okay to allow my collection to grow slowly over time as money and availability allows me to get the pieces I want.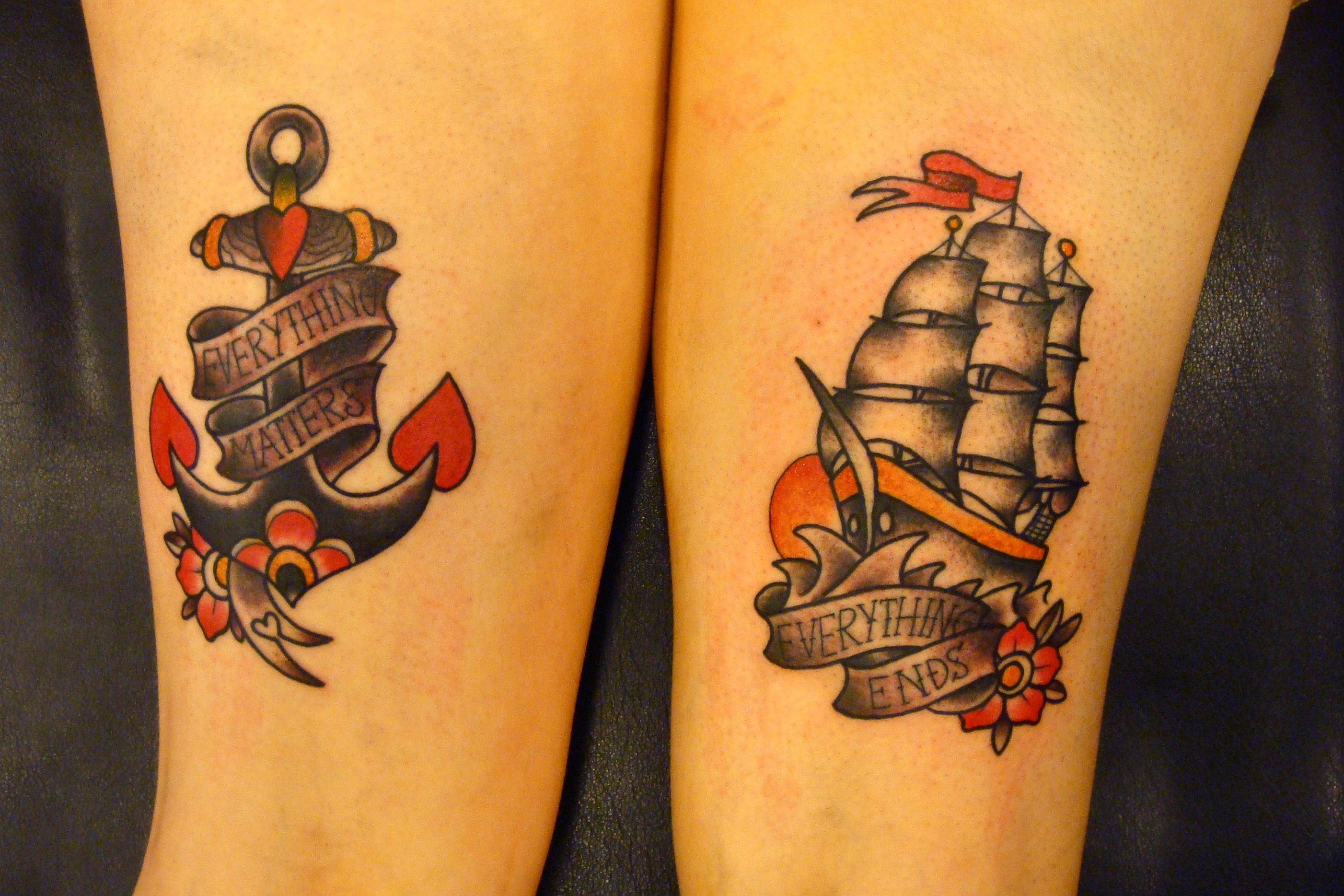 Do you feel people react to your tattoos differently here in the UK compared to Canada?
Not really – although some of my more visible tattoos, like my chest piece, I got after I moved to the UK, so it's hard to say. Most people are really friendly and curious if they ask about my tattoos, but there is always the odd person who feels the need to express their displeasure with my decisions or tell me that I'd look better without them. I have a pretty good sense of humour about it because they're not something I got for anyone else but myself.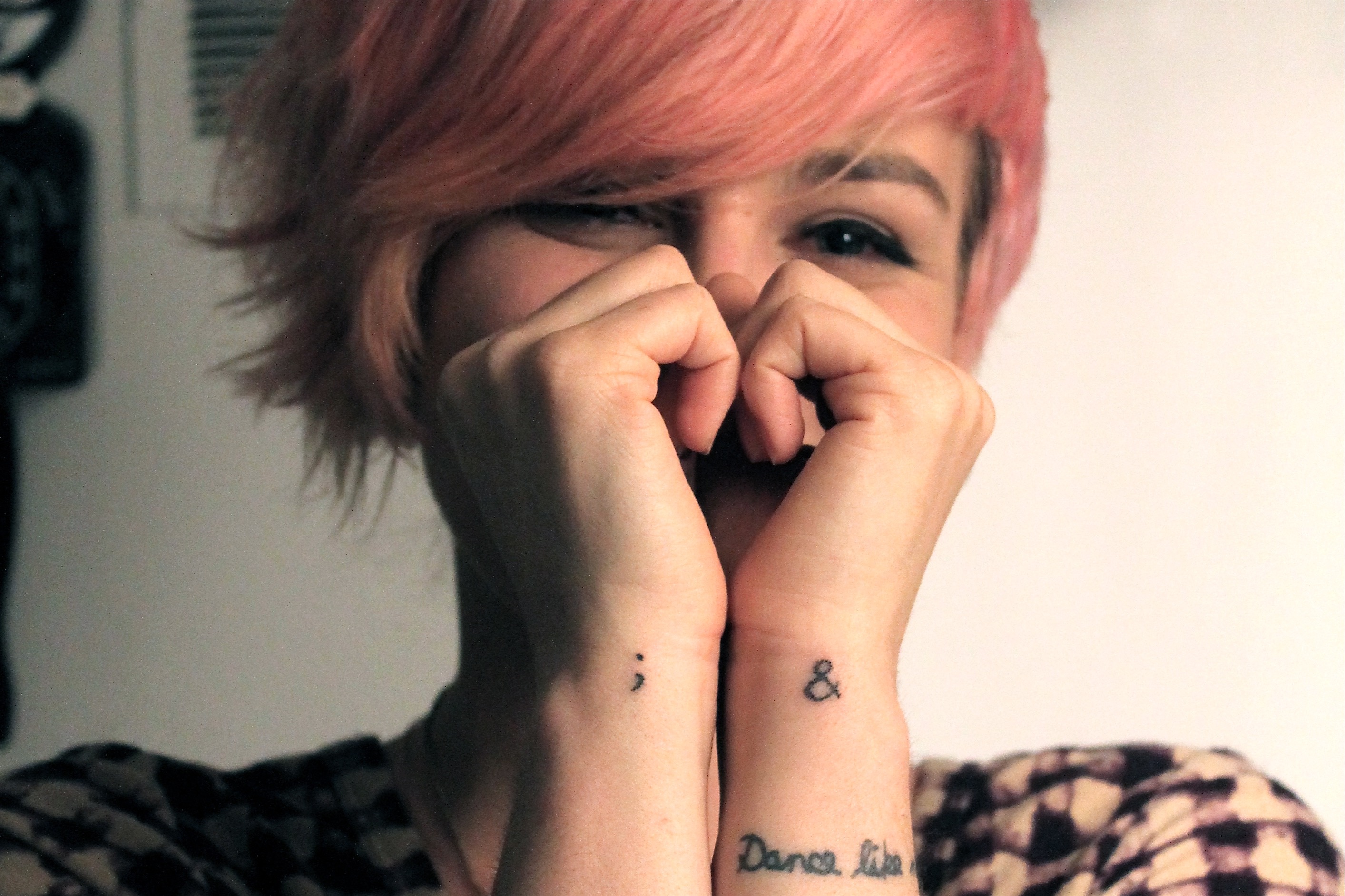 Thanks Sarah, for taking the time to do this! And peeps, don't forget to check out The Laughing Medusa and follow @laughing_medusa on Twitter.